Construction of the fast-tracked, multi-phased project begins this month and will employ more than 40 workers on-site, with completion set for summer 2015.
Lockheed Martin contracted Advanced Roofing and Advanced Green Technologies to design and build a massive 2.25 megawatt solar carport at the global security and aerospace company's Mission Systems and Training facility in Clearwater, Florida. The project will be the largest private, non-utility owned solar array in Florida and is expected to produce 3.33 million kilowatt hours of electricity per year.

The solar carport will cover 151, 400 square feet of the facility's parking lot with 7,260 solar modules to provide shade for 534 cars. At completion, the project is expected to cut electricity purchases for the facility by up to 60 percent, according to Lockheed Martin's estimates.
Advanced Roofing, Florida's largest commercial solar contractor, competed with a field of national and Florida-based firms for the contract. The company will serve as general contractor, with sister firm Advanced Green Technologies providing construction and installation.
"Since the facility's operations will be in full swing throughout the construction schedule, precise phasing will be crucial to expedite our work and minimize disruption at the site," said Clint Sockman, vice president of Advanced Roofing and Advanced Green Technologies. As the state's largest commercial re-roofing contractor, Advanced Roofing will draw on its decades of experience with large, complex projects at operational corporate, federal, healthcare, education, manufacturing and retail facilities.
Construction of the fast-tracked, multi-phased project begins this month and will employ more than 40 workers on-site, with completion set for summer 2015. In addition to design, procurement and construction of the solar carport, Advanced Roofing's contract includes resurfacing the entire 6.65-acre asphalt parking lot at the facility.
Advanced Roofing will first resurface half the parking lot, and then install the carport's foundations and structural steel superstructure. The contractor's crews will then install the solar panel canopy, using high- efficiency Hanwha SolarOne S-series modules, and will add the full under-canopy LED lighting system. The first phase will be in use as the second-phase parking lot work commences.
Throughout Florida and around the nation, offsetting energy costs with solar carports is a growing trend for corporate, healthcare, hotel and government facilities. A recent national study by GTM Research projected a 76 percent increase in solar carports from an estimated 2014 annual installed capacity of 180.2 megawatts to an estimated 318 megawatts in 2016.
About Advanced Roofing and Advanced Green Technologies
Fort Lauderdale-based Advanced Roofing provides design, procurement and construction of commercial rooftop and utility ground mount solar photovoltaic systems for clients throughout North America and the Caribbean. Advanced Roofing is consistently ranked as Florida's top commercial re-roofing contractor by national Roofing Contractor magazine.
Advanced Green Technologies (AGT Solar) is an award-winning solar energy contractor and sister company to Advanced Roofing Inc., one of the nation's largest commercial re-roofing companies. Founded in 2007, AGT specializes in the design, procurement, and construction of rooftop, carport, and ground-mounted solar energy systems. AGT is among the most experienced commercial solar contractors in North America, having installed more than 200+ megawatts (MW) of carport, ground mount, and rooftop solar. AGT holds NABCEP, RISE, and LEED accreditation and is recognized by Solar Power World Magazine as a top Commercial Solar Contractor in North America 2012-15. To learn more about AGT call 888-735-2641 or visit www.agt.com.
Featured Product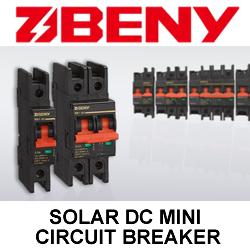 The BB1-63 modular miniature circuit-breakers can be used in solar DC circuits up to 1200 VDC (4-poles execution). Application in solar DC circuits, battery energy storage systems and UPS. Arc flash barrier design keeps solar equipment more safe and reliable. For DC circuit over-current protection.