Freqcon GmbH's energy storage system helps Ireland meet its 40 percent renewable energy generation target
SAN DIEGO, Feb. 18, 2015 -- Maxwell Technologies, Inc. (Nasdaq: MXWL), today announced that Freqcon GmbH, a German developer and distributor of renewable energy systems, has deployed an energy storage system for the Tallaght Smart Grid Testbed in Ireland that uses Maxwell ultracapacitors and lithium-ion batteries to support grid stability in both residential and industrial settings. Freqcon's Microgrid Stabilizer addresses the electricity intermittency challenges that accompany high renewable energy penetration.

As Ireland works toward its goal of 40 percent renewable energy generation by 2020, the Tallaght Smart Grid Testbed, run by the South Dublin County Council and the Micro Electricity Generation Association (MEGA), will demonstrate how energy storage can minimize electricity distribution issues and grid instability. With multiple sources of energy generation, the grid network in Ireland must deal with voltage and frequency issues before distributing the electricity to end users.
"Smart grid projects are a priority in Ireland, and, depending on the local set-up, the grid challenges can vary greatly," said Dudley Stewart, secretary general of MEGA. "Freqcon's Microgrid Stabilizer can be customized for individual projects, and the combination of batteries and Maxwell ultracapacitors is a promising solution. We are looking forward to seeing more of these systems deployed in the field in the near future."
The testbed uses Freqcon's Microgrid Stabilizer for voltage and frequency stabilization, with a combination of lithium-ion batteries and ultracapacitors for active power support in the grid's distributed network. The Maxwell ultracapacitors perform fast functions such as frequency response, while the batteries are used for peak shifting and operating reserve.
Norbert Hennchen, CEO of Freqcon, said, "The market for grid-tied energy storage systems is growing, and fast frequency response is a valuable system service to the grid. Ultracapacitors are the ideal technology to do this. Based on our long-standing relationship with Maxwell and our experience with ultracapacitors in pitch systems for wind turbines, we're bringing this technology to the space of grid stabilization."
Dr. Franz Fink, president and CEO of Maxwell, said, "As the European Union, China, the United States and other countries around the world work toward their renewable energy consumption and generation targets, ensuring optimal renewable energy production will be critical. With a reduced number of fossil-fuel-based synchronous generators in operation, grid stability is becoming a challenge, and we expect ultracapacitors will play an important role in addressing this issue."
Unlike batteries, which produce and store energy by means of a chemical reaction, ultracapacitors store energy in an electric field. This electrostatic energy storage mechanism enables ultracapacitors to charge and discharge in as little as fractions of a second, perform normally over a broad temperature range (-40 degrees Celsius to +65 degrees Celsius), operate reliably through 1 million or more charge/discharge cycles and resist shock and vibration. Maxwell offers ultracapacitor cells ranging in capacitance from one to 3,400 farads and multi-cell modules ranging from 12 to 160 volts. For more information on Maxwell's ultracapacitor products, please visit Maxwell.com
Featured Product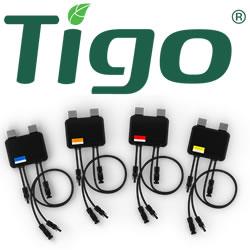 Tigo will announce the new product launch of the patented UHD-Core TS4-A (Advanced Retrofit/Add-on) Platform at SPI 2019. The new TS4-A-M (Monitoring) & TS4-A-S (Safety) units have improved lightweight hardware and lower labor costs to address a range of functions and budgets. The TS4-A-M allows module-level monitoring via Tigo's SMART Website & App. The TS4-A-S is UL-certified as a rapid shutdown solution for residential and C&I PV system. Both units join the Tigo's multivendor solution that works with almost any inverter and smart module in the global PV market. Contact sales@tigoenergy.com for pricing, shipping, and availability in Q4'19.