Free-to-attend programme of CPD certified energy and sustainability workshops and seminars 21 to 23 April 2015 NEC Birmingham sustainabilitylive.com/seminars
Sustainability Live, running from 21 - 23 April at the NEC Birmingham, today announces its three-day programme of more than 35 free CPD-accredited workshops and seminars for sustainability and energy management professionals.

Offering practical advice about implementing sustainability and energy management initiatives, the programme will cover the latest legislative updates, technology developments and business opportunities and challenges.
Amanda Barnes, chief executive at Sustainability Live organiser Faversham House, said: "Sustainability Live 2015 will offer unrivalled opportunities for sustainability and energy management professionals to get ahead in their sector.
"This year's programme of workshops and seminars will offer practical, case study-led advice and learning, alongside the opportunity to gain CPD credits. Furthermore, this year's new Topic Trails will help visitors meet the leading exhibitors and suppliers to help turn the 'what' into 'how' and put their strategy into action."
Energy Efficiency Theatre One
Focusing on People, Policy Processes and Best Practice, this will explore the policies, standards and best-practice strategies for driving energy efficiency in business.
Highlight sessions include the case study 'ESOS: getting the most from your audit', which explains not only how to comply with the December 15 deadline, but also how to take real advantage of the energy saving opportunities presented by ESOS. The session will be chaired by Martin Fry, honorary president of ESTA.
'Energy efficiency road map and priorities for energy managers' will set out the key challenges, business imperatives and opportunities for energy managers by exploring technologies, finance, barriers and the policy landscape that's driving energy efficiency. Chaired by Ant Wilson, director and fellow of AECOM, the discussion will also include Luke Nicholls, editor of edie.net who will share the findings of edie.net's annual Energy Management Survey, plus Richard Wilson, environmental strategy manager of Norwich City Council, who was voted Energy Manager of the Year in 2014.
Other speakers sharing their knowledge in the Energy Efficiency Theatre One include Malcolm Hanna, technical director of the National Energy Federation, Dr Nick Murry, chief sustainability officer of EcoDesk and Will Sadler, training manager for the Energy Institute.
Energy Efficiency Theatre Two
Energy Efficiency Theatre Two will focus on 'Technology, Tools and Kit' and highlight key developments in sustainable technology, including on-site energy generation, lighting and measuring and monitoring solutions.
'The business case for solar' will offer practical case studies to illustrate the incentives, payback and energy security of small to large scale commercial PV. Chaired by Ray Noble from the Renewable Energy Association, the talk will feature advice from Jerry Hamilton, director of Renewables and Energy Solutions at Rexel.
As many businesses battle rising energy bills, opportunities for reducing costs associated with lighting will be explored in the session 'Delivering cost and carbon savings with low-energy lighting systems'. Practical lessons will be shared by representatives from DW Windsor Lighting, Heathrow Terminal 5 and Future Energy Solutions who will cover issues such as external and internal lighting and refurbishment. The session will be chaired by Peter Hunt, from the Lighting Industry Association.
Other well known experts sharing their knowledge in the Energy Efficiency Theatre Two include Mat Colmer, lead technologist for the low impact building innovation platform at Innovate UK, Andy Eastlake, managing director of the Low Carbon Vehicle Partnership and Reid Cunningham, strategic development director for BAM FM.
Energy Recovery Theatre
The Energy Recovery Theatre will offer a packed programme focusing on the latest technologies for driving on-site energy generation. Highlight sessions include 'The bankability factor: investors and incentives', which will explore the changing landscape for financing energy recovery projects, from tapping into what investors want to making the most of government subsidies. Speakers include Chris Holmes, managing director of waste and bioenergy for the Green Investment Bank, Claudia Amos, principal consultant at LRS and Stuart Easterbrook, contracts manager for the National Grid.
'Fuelling CSR: creating brand value by closing the loop', will discover how brand leaders are demonstrating leadership and boosting their environmental credentials when it comes to waste by adopting a closed loop approach. The session will offer insights into Sainsbury's food waste strategy, with a talk from Paul Crewe, head of sustainability.
Finally, the 'Energy Recovery Technology Pitch' will hear from four innovative organisations, pitching their latest game-changing technologies in a quick-fire format.
New show features for operational teams
Four new Topic Trails have been introduced for Sustainability Live 2015, to help energy and sustainability managers maximise their time at the exhibition – and match exhibitors with the most relevant visitors. Topic Trails for 2015 are ESOS, Energy-efficient Buildings, Energy Generation and Smarter Systems. On arrival, visitors will receive a colour-coded Topic Trail map, which will help them discover the most relevant exhibitors, seminars and workshops that will address their specific challenges and concerns. Visitors who complete a trail will receive a complimentary drink from the organisers and be entered into a free prize draw to win a weekend break in a sustainable hotel, worth around £500.
The Innovation Zone
Sustainability Live 2015 also introduces The Innovation Zone, an exciting new feature to showcase 16 innovative emerging technologies that are still in the trial stages of development. The new feature is expected to be a focal point for collaboration, learning and networking.
Co-located events
The Environment and Energy Awards and Utility Week™ Live incorporating IWEX will also be co-located with Sustainability Live, offering visitors the opportunity to find all of their environment, utility and sustainability solutions under one roof. All take place at the NEC Birmingham from 21 to 23 April.
For more information about participating in the event, please visit www.sustainabilitylive.com or contact the sales team on +44 (0) 1342 332097, or email sustainabilitylive@fav-house.com.
Featured Product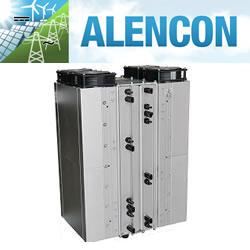 Alencon Systems is the premier manufacturer of high power, high voltage DC:DC optimizers for alternative energy applications including solar, battery energy storage, Microgrids, Fuel Cells and Electric Vehicle charging. Alencon's DC:DC converter offerings include the SPOT, BOSS and CUBE series DC:DC converters. The SPOT is a modular, uni-directional DC:DC solution ideal for solar applications. The BOSS is a modular, bi-directional unit for use with battery energy storage. The CUBE is a monolithic DC:DC converter which is available in both uni-directional and bi-directional modalities. Pictured above, is the Alencon SPOT.