Paul Nahi sees 'fundamental role' of solar and other new energy technologies in ensuring energy security and grid stability
WASHINGTON--Enphase Energy, Inc. (NASDAQ:ENPH), announced today that Paul Nahi, president and CEO, told a House subcommittee that "solar and other energy technologies will play a fundamental role in the new energy economy." Nahi made his comments during a hearing convened by the House Committee on Energy and Commerce's Subcommittee on Energy and Power. Titled "21st Century Electricity Challenge: Ensuring a Secure, Reliable and Modern Electricity System," the hearing examined how new advanced grid technologies can help support the modernization of the American electricity system while increasing reliability and security.

Nahi testified that the increased deployment and integration of smart solar, storage and energy management technologies can help modernize and stabilize the utility grid with a high degree of reliability. "It is my opinion that solar and other energy technologies will play a fundamental role in the new energy economy, as a result of our ability to innovate and scale, resulting in highly cost competitive, reliable and secure energy generation," he said.
The committee's series of hearings will also review the positions of the North American Electric Reliability Corporation (NERC) and the Advanced Energy Economy Association and their competing positions on the EPA's Clean Power proposal. NERC's position was issued in a report entitled Potential Reliability Impacts of EPA's Proposed Clean Power Plan. AEE issued a rebuttal report entitled Compliance with EPA's Clean Power Plan Unlikely to Materially Affect Electric Grid Reliability. Noting that Enphase has been "built on a foundation of collaboration," Nahi told the committee that the company believes "a healthy industry lifts all market participants."
Acknowledging that the company's "number-one job is to help provide clean affordable and renewable energy while increasing grid stability," Nahi also emphasized to the committee "the urgent need to increase the security of our energy supply. Energy security is fundamental to the health of our country. It must be recognized that new, clean energy resources can play a significant role in 'enhancing' our energy security."
For a copy of the full transcript of Paul Nahi's statement to the House Subcommittee on Energy and Power, contact pr@enphasenergy.com.
About Enphase Energy, Inc.
Enphase Energy delivers energy management technology for the solar industry that increases energy production, simplifies design and installation, improves system uptime and reliability, reduces fire safety risk and provides a platform for intelligent energy management. Our semiconductor-based microinverter system converts energy at the individual solar module level and brings a systems-based, high-technology approach to solar energy generation. Connect with Enphase on Facebook and follow us on Twitter. www.enphase.com
Featured Product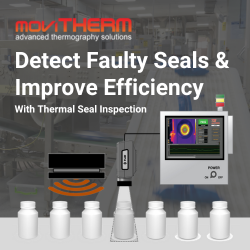 MoviTHERM's Thermal Seal Inspection (TSI) solution provides precise and reliable detection of defects in a variety of packaging types, including pouches, bags, blister packs, bottle caps, and more. By detecting defects in your packages, the TSI solution helps increase efficiency in your production line and ensures top-quality packaging is delivered to your customers every time. With state-of-the-art technology and an experienced team, MoviTHERM is dedicated to delivering accurate inspection solutions and peace of mind to its clients. Contact MoviTHERM today to learn more about their thermal seal inspection solution.