Photovoltaic System Provides 75 Percent of the Winery and Restaurant's Total Energy Consumption
Ensenada, Baja California, Mexico – March 9, 2015 – Nestled in the verdant Valle de Guadalupe winemaking region and with an eye on sustainability, El Cielo Winery in Baja California now offsets approximately 75 percent of its energy needs with a new Kyocera solar installation. El Cielo, which translates as "The Sky," has installed 220 high-reliability Kyocera 245 watt solar modules for a 53.9kW system as part of its mission to be as environmentally friendly as possible. The rooftop and carport system will produce approximately 91,000 kWh annually, saving the winery $1,000-$1,200 a month in electricity costs and enhancing its bottom line.

"The use of solar energy must be a priority not only for wineries, but also for all businesses," said Gustavo Ortega, General Director of El Cielo. "We chose Kyocera panels because of their longstanding, proven reliability and local production right here in Baja. In this way, we keep more jobs here in our own state."
From its inception, the owners of El Cielo set out to design a sustainable property, looking to protect the environment around their 90,000 vines because of a strong personal commitment and a hope to inspire other properties in Mexico's burgeoning wine tourism region to follow suit. Together, the winery and its associated restaurant have also adopted energy-efficient LED lighting with automated motion sensors, thermal materials, solar tubes and reclaimed water for landscaping as further examples of how environmental impact can be minimized.
"Experiences in Riviera Maya tourism taught us that investing in energy efficiency and using natural resources responsibly not only agrees with our personal commitment, but also we owe it to the environment, to Mexico and to future generations," Ortega continued. "Our goal is to bring best practices for the environment to El Cielo, which includes powering as much of our winery and restaurant via solar energy as possible."
Solar was a crucial element for El Cielo. The winery building was constructed with a flat roof in anticipation of adding solar when it became financially viable. Just one year into operations, the winery is already one of the region's most popular, with a photovoltaic system that includes both rooftop panels and a carport to shade vehicles while simultaneously producing renewable energy from the region's abundant sunshine.
"El Cielo represents best practices in the wine tourism industry, proving that being environmentally friendly can enhance a winery's popularity and profitability," said Cecilia Aguillon, Director of Marketing for Kyocera Solar Inc. "Kyocera enjoys a special relationship with Baja California, having manufactured solar modules in Tijuana for more than a decade. We're honored to support this important project in the region."
The photovoltaic system was installed by Scaee from Ciudad Obregon, Sonora, and was financed in part by the Mexican government through SAGARPA and FIRCO programs.
Kyocera is the only solar module manufacturer to earn the highest rating across all six PV module test categories in GTM Research's July 2014 PV Module Reliability Scorecard.
To learn more about Kyocera Solar Inc.'s solutions for both residential and commercial projects in the U.S. and Mexico, please email infosolar@kyocera.com or call 800-223-9580.
About KYOCERA
Kyocera is a world leader in solar photovoltaic modules and systems, with a 40-year history of innovation in solar technology and multiple world records in multicrystalline silicon cell efficiency. The company serves thousands of residential and industrial customers in both developed and developing regions, with more than 5 gigawatts of solar collection equipment installed since 1975.
Kyocera Solar, Inc. is headquartered in Scottsdale, AZ, with regional sales affiliates in the Americas, and solar module manufacturing facilities operated by Kyocera Mexicana, S.A. de C.V. of Tijuana, Mexico.
Kyocera Corporation (NYSE:KYO) (TOKYO:6971), the parent and global headquarters of the Kyocera Group, was founded in 1959 as a producer of fine (or "advanced") ceramics. Kyocera specializes in combining these engineered materials with other technologies to create solar power generating systems, printers, copiers, mobile phones, electronic components, semiconductor packages, cutting tools and industrial components. During the fiscal year ended March 31, 2014, the company's consolidated net sales totaled 1.45 trillion yen (approx. $14.1 billion USD). Kyocera appears on the latest listing of the "Top 100 Global Innovators" by Thomson Reuters, and is ranked #531 on Forbes magazine's current "Global 2000" listing of the world's largest publicly traded companies.
Featured Product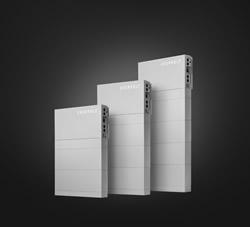 Renewable energy stored in an EVERVOLT home battery system is the perfect backup plan against an uncertain utility grid and weather events. Run key appliances longer and live life when the unexpected happens. EVERVOLT battery storage systems are covered by a complete 12-year warranty from Panasonic.