North America Wind Power Exhibition from 18 to 21 of May in Orlando - Florida
Meteodyn will attend the largest North America Wind Power Exhibition from 18 to 21 of May in Orlando - Florida, stand N° 1822. This exhibition is organized by the AWEA – American Wind Energy Association.

Meteodyn, expert in CFD wind resource assessment and production forecasting, will showcase the latest meteodyn WT software options and wind energy consulting services. Windpower exhibition is a great opportunity for us to meet wind power decision makers, to share newest technological innovations and to discuss about market trends.
Meteodyn WT software models the wind and assesses wind resource in every kind of terrains, even the most complex ones. In addition, we offer a very performing wind production forecasting solution: meteodyn Forecast.
About Meteodyn
For more than 10 years, Meteodyn has been the leading expert in wind engineering, software development and energy studies. Meteodyn develops wind modelling software and provides a large range of consulting services: wind resource assessment, wind production forecast, wind atlas generation, wind energy production assessment, site suitability analysis, windfarm layout design, site optimization…
The leading wind industries in the world already used meteodyn WT.
Featured Product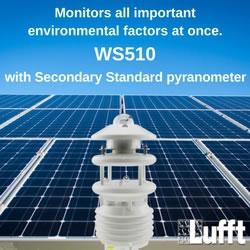 First and only Smart Weather Sensor with integrated Kipp & Zonen CMP10 Pyranometer (secondary standard). From the WS product family of professional intelligent measurement transducers with digital interface for environmental applications. Integrated design with ventilated radiation protection for measuring: Air temperature, relative humidity, air pressure, wind direction, wind speed and radiation. One external temperature or rain sensor is connectable.