Schletter Inc. announces the appointment of Mr. Guy Roberts as chief operations officer
March 26, 2015 — Shelby, North Carolina — Schletter Inc., a global manufacturer of sheet metal components and solar (photovoltaic and thermal) mounting structures, announces the appointment of Mr. Guy Roberts as chief operations officer.

As the Chief Operations Officer (COO), Mr. Roberts will lead business operations of the organization including production, sourcing, logistics, and quality control. With the appointment of Roberts, this will make the third executive appointment within Schletter over the past year, furthering indications of forthcoming dynamic changes Schletter in the near term.
Mr. Robert's began his career in industrial engineering with Daimler Trucks of North America. For twenty-four years he progressed through the ranks of Daimler while executing critical improvement measures as well as leading strategic planning and management roles. After leaving Daimler, Roberts served as chief operations officer for Porter's Group where he focused on continual process improvements, led initiatives to streamline supply chains, and increased sales.
"At our core, Schletter is in the business of manufacturing high quality products including those in the solar industry. Schletter's success is rooted in its metal manufacturing core competence," says Mr. Dennis Brice, chief executive office of Schletter Inc. Mr. Brice goes on to say that "with Guy's well-rounded experience in manufacturing, he is an excellent addition to aide in expanding Schletter's presence in additional verticals, while at the same time, offer valuable leadership to the operational processes of the company."
Mr. Roberts has a Bachelor of Science in Business Management and a Minor in Industrial Engineering from Oregon State University.
About Schletter Inc.
Schletter (www.schletter.us) has designed, developed, and manufactured solar mounting products in the U.S. since 2008, while backed with more than twenty years of solar mounting experience from Schletter GmbH. Since opening its United States facility in Tucson, Arizona Schletter Inc. has manufactured more than 1 GW of installed PV mounting systems. Schletter Inc. offers products for roof mount and ground mount systems for residential, commercial, and utility scale photovoltaic systems. Schletter Inc. is a privately owned entity of Schletter Beleiligungs GmbH & Co. KG, which operates in eleven countries with more than thirteen-hundred employees worldwide. For more information on Schletter Inc., please visit www.schletter.us.
Featured Product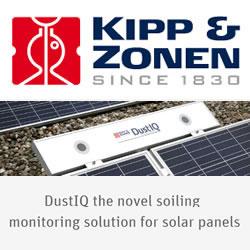 Soiling of the panel glass is one of the major problems in the rapidly expanding solar energy market, with the attendant loss of efficiency and reduction in performance ratios. Now, there's a new, simple and very cost-effective alternative. Based on Kipp & Zonen's unique Optical Soiling Measurement (OSM) technology, DustIQ can be easily added to new or existing solar arrays and integrated into plant management systems. The unit is mounted to the frame of a PV panel and does not need sunlight to operate. It continuously measures the transmission loss through glass caused by soiling, so that the reduction in light reaching the solar cells can be calculated.