Ballard Power Systems today announced that, effective April 1st, 2015, the Company has appointed Mr. Jim Roche to the Board of Directors.
For Immediate Release

VANCOUVER, CANADA – Ballard Power Systems (NASDAQ: BLDP; TSX: BLD) today announced that, effective April 1st, 2015, the Company has appointed Mr. Jim Roche to the Board of Directors.
Ian Bourne, Chairman of Ballard's Board of Directors said, "Jim brings a wealth of experience in managing high growth companies in new markets, along with considerable international business experience, including the China market. This appointment is an important step in the renewal effort underway at Ballard, which began with the recent hiring of Randy MacEwen as President and CEO."
Mr. Roche was a founding member and executive at Newbridge Networks Corporation, a publicly-traded Canadian communications equipment vendor with more than 5,000 employees and revenue in excess of $1 billion when it was acquired by Alcatel in 1995. He subsequently co-founded Tundra Semiconductor Corporation, and was President and CEO of the publicly-traded company before it was acquired by IDT in 2006. Mr. Roche has also served as President and CEO of CMC Microsystems and CANARIE Inc. He is currently President and CEO of Stratford Managers Corporation, a management consultancy focused on small and mid-size technology companies.
The appointment of Mr. Roche temporarily expands Ballard's Board of Directors to eight members. Mr. Roche will stand for re-election by shareholders at the Company's upcoming Annual General Meeting, to be held in June, along with the remaining members of the Board of Directors.
"We will continue our renewal initiative in 2015 in anticipation of the planned retirements of our longest-serving directors in 2016," stated Mr. Bourne.
About Ballard Power Systems
Ballard Power Systems (NASDAQ: BLDP; TSX: BLD) provides clean energy products that reduce customer costs and risks, and helps customers solve difficult technical and business challenges in their fuel cell programs. To learn more about Ballard, please visit www.ballard.com.
This press release does not constitute an offer to sell or the solicitation of an offer to buy securities. The Ballard Common Shares have not been registered under the United States Securities Act of 1933, as amended, or the securities laws of any other jurisdiction and may not be offered or sold in the United States absent registration or an applicable exemption from registration requirements.
Further Information: Guy McAree +1.604.412.7919, media@ballard.com or investors@ballard.com
Featured Product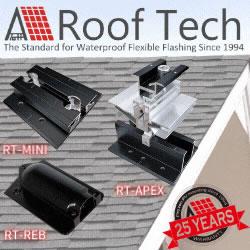 Now Roof Tech brings you the most innovative, watertight mounting systems ever developed for solar photovoltaic systems. Designed and manufactured exclusively for us by Japan's longtime leader in roofing technologies, Roof Tech products are 100% code-compliant and offer fast, simple installation and huge savings on shipping costs due to their compact, rail-less design. Learn more about our full line of versatile PV mounting solutions now available for residential installations. The next generation in rooftop solar mounting solutions."