Enabling High-efficiency Passivated Emitter Rear Contact (PERC) Solar Cells
Taoyuan, Taiwan April 09, 2015

DuPont Microcircuit Materials (DuPont) has developed DuPont Solamet PV76x photovoltaic metallizations, a new series of front side silver pastes designed to maximize efficiencies and improve the reliability of solar cells and panels utilizing Passivated Emitter Rear Cell (PERC) technology. The new Solamet PV76x paste has been successfully tested at leading solar cell and panel manufacturer Solartech Energy Corp. (Solartech), helping them to achieve a new power output record for their "Sapphire" solar panel.
"Solamet PV76x paste is the only front side silver material specifically designed to maximize PERC efficiency that has been demonstrated in production," said Thomas Lin, global photovoltaics marketing manager, DuPont Microcircuit Materials. "Weve seen impressive results working in collaboration with Solartech, and advances in Solamet technology continue to lead the industry to new heights of panel power output. We look forward to more 'firsts to come as we roll out additional Solamet® technologies."
DuPont has been working in close collaboration with Solartech since its inception in 2005, advancing efficiency with successive generations of Solamet pastes. Solartech most recently utilized Solamet PV76x frontside silver paste as part of a complete system, together with Solamet PV36x aluminum paste and PV56x tabbing silver, to achieve 19.6 percent total efficiency with multi-crystalline PERC solar cells. These high solar cell efficiencies, together with a four bus-bar design and low light induced degradation (LID) levels, have enabled the development of Solartechs 60-cell "Sapphire" solar panel featuring 286 watts of power - the highest power output reported for this type of solar panel.
"The collaboration between Solartech and DuPont has helped maximize the power output of our 'Sapphire' solar panel, which opens up new opportunities for us in the market and enables our customers to achieve higher financial returns," said Kong-Hsin Liu, chairman of Solartech Energy Corp.
The introduction of Solamet PV76x paste marks the latest in a series of precedents for DuPont innovation with PERC technology. DuPont was the first in the industry to introduce local back surface field aluminum pastes and rear-side tabbing pastes specifically designed for industrial PERC solar cells, with Solamet PV36x series aluminum pastes and Solamet PV56x series rear-side tabbing pastes, respectively. With Solamet PV76x series front side silver pastes, DuPont is now the first in the industry to develop front side silver pastes specifically for PERC technology. DuPont Solamet integrated metallization solutions for PERC have been demonstrated in production to deliver more than 0.15 percent significant efficiency gains for both multi- and mono-crystalline silicon PERC solar cells.
DuPont will feature the new Solartech panel at its booth W4-555 during the SNEC Photovoltaic (PV) Power Expo in Shanghai, China, from April 28 - 30, 2015.
DuPont Microcircuit Materials has over 40 years of experience in the development, manufacture, sale and support of specialized thick film compositions for a wide variety of electronic applications in the photovoltaic, display, automotive, biomedical, industrial, military and telecommunications markets. For more information on DuPont Microcircuit Materials, please visit http://mcm.dupont.com.
DuPont is the leading supplier of specialty materials to the solar energy industry, with the broadest portfolio of products designed to improve the power output, reliable lifetime and return on investment for solar panels. To learn more, please visit http://photovoltaics.dupont.com.
DuPont (NYSE: DD) has been bringing world-class science and engineering to the global marketplace in the form of innovative products, materials, and services since 1802. The company believes that by collaborating with customers, governments, NGOs, and thought leaders we can help find solutions to such global challenges as providing enough healthy food for people everywhere, decreasing dependence on fossil fuels, and protecting life and the environment. For additional information about DuPont and its commitment to inclusive innovation, please visit http://www.dupont.com.
Featured Product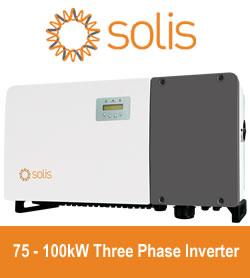 Solis75kW - 100kW series high-power string inverters are widely used in industrial and commercial rooftops. Solis's new three-phase string inverter is the first choice for industrial and commercial photovoltaics. 75-100kW three phase series string inverter have Maximum 28 strings input, support "Y" type connection in DC side. Maximum string input current 13A, support bifacial modules access.Supports anti-PID function to improve system efficiency.