ALTEN Battery Chargers Inc. is pleased to announce the launch of the ALTEN P1 propane and natural gas battery charging DC generator. Powered by an ALTEN converted propane engine with an industry leading Subaru 5-year engine warranty, the P1 greatly improves telecom and industrial off grid solar reliability and battery life while significantly reducing greenhouse gas emissions.
Ferndale, Wash. April 10, 2015

ALTEN battery charging DC generators have been used worldwide for over 20 years, originally developed for the harsh demands of the rugged Australian Outback. When compared to an antiquated setup of an AC generator and battery charger (rectifier), ALTEN battery charging DC generators require a third the runtime to recharge batteries, consumes a third the fuel, resulting in a third the maintenance. Continuing this triple threat, the ALTEN P1 propane DC generator provides additional fuel choice and flexibility to ALTEN customers, while offering a low carbon alternative.
"Many of our customers operate facilities in remote locations that are not readily accessible, places where refueling might take place only once a year. These small remote facilities typically house communications equipment, well monitoring equipment, etc., and already have a propane or fuel gas supply, as is often the case with our oil and gas or telecom customers. So the decision was pretty clear for us to develop a reliable battery charging DC generator that uses these available fuel sources" says Greg Drysdale, responsible for developing ALTENs line of battery charging DC generators.
ALTEN, a Pacific Northwest company, manufactures a range of battery charging DC generators and hybrid energy solutions increasingly relied upon by electrical and instrumentation professionals and telecommunications integrators.
For more information visit: http://www.altendc.com/dc-generators/propane-natural-gas/alten-p1.html
About ALTEN Battery Chargers, Inc.
ALTEN Battery Chargers, Inc. is committed to developing and manufacturing energy solutions that seek to minimize our dependence on fossil fuels and an aging centralized electrical grid, while providing the reliability demanded by the harshest of applications. Focused on DC power and hybrid energy solutions, ALTEN's technology complements and offers reliable and redundant power for industrial battery applications, remote power applications and micro generation platforms including solar, small wind and other renewable power generation installations. http://Ferndale, Wash.
Featured Product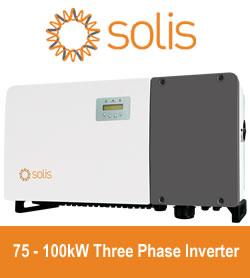 Solis75kW - 100kW series high-power string inverters are widely used in industrial and commercial rooftops. Solis's new three-phase string inverter is the first choice for industrial and commercial photovoltaics. 75-100kW three phase series string inverter have Maximum 28 strings input, support "Y" type connection in DC side. Maximum string input current 13A, support bifacial modules access.Supports anti-PID function to improve system efficiency.