Buffalo also made an admirable showing and ranks 38th for total solar panels in the nation, and 6th in the Mid-Atlantic and New England Regions.
New York, NY—New York City ranks 9th for total solar panels in the nation, and 1st in the Mid-Atlantic and New England Regions according to Environment New York Research and Policy Centers new analysis, Shining Cities: Harnessing the Benefits of Solar Energy in America. The solar stature of the city is owed largely to the clear commitment of the citys leaders, as well as Governor-Cuomos successful NY-SUN Initiative, advocates said today.

"New York City is a star when it comes to solar power," said Heather Leibowitz, Director of Environment New York. "We hope state leaders and other New York cities will follow this shining example."
Buffalo also made an admirable showing and ranks 38th for total solar panels in the nation, and 6th in the Mid-Atlantic and New England Regions.
City of Buffalo Mayor Byron W. Brown stated, "Buffalo is proud to continue its long history as the "City of Light" and an energy innovation leader. According to the City of Buffalo Energy Master Plan, solar generation projects and capacity within the City of Buffalo doubled between 2011 and 2012. The Buffalo Public School board recently awarded a contract to install solar on 20 additional school facilities and provide solar installation training. The draft City of Buffalo Green Code specifically addresses both residential and commercial solar installations, and Solar City is now in the process of building one of the world's largest solar panel manufacturing facilities in Buffalo, resulting in the creation of 3,000 new jobs. I'm proud of the steps we've made towards a clean energy future that protects the environment and creates new, green jobs."
Solar power is on the rise across the country, with another panel or project installed every three minutes last year. Plummeting costs, increasing public concern over global warming and energy independence, and technological innovation have all played a role in spurring the growth of the pollution-free energy source.
Cities are implementing many different policies as tools to expand solar energy development. New York City has partnered with its local investor-owned utility to create designated "Solar Empowerment Zones" where solar can be most beneficial. And cities nationwide are encouraging local lending for solar projects and facilitating community-owned solar.
According to researchers who examined solar power installations in 70 American cities in nearly every state, New York City had enough solar energy online at the end of last year to power just over 37,200 homes.
Furthermore, the report was released this morning in Huntington at an event honoring Long Islands progress on solar energy and the Solarize Huntington initiative. Among those in attendance were Congressman Steve Israel (D-Huntington), Assemblymember Lupinacci, and members of the solar power advocate community.
"Long Island and New York are shining examples of leadership in clean energy and solar panel technology," said Congressman Israel. "I am proud to call Huntington home and applaud Environment New York and our local leaders for bringing our community to the forefront of the solar power movement. Together, we can ensure that solar energy plays an integral role in creating a stronger economy and a more secure energy independence."
"There is no doubt alternative energy sources like solar, wind and geothermal bring a positive impact to our communities," said Assemblyman Chad Lupinacci. "I look forward to working with colleagues from both sides of the aisle to increase the development of renewable energy usage in New York State. We can save taxpayer dollars by providing free and clean energy for Long Island, and become leaders in the growing market for solar energy."
"With prices going down and concern about global warming going up, solar power is growing rapidly in our state," said Leibowitz. "We need federal and state leaders to continue the policies that allow solar to shine."
Featured Product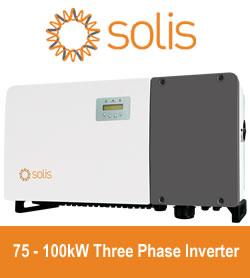 Solis75kW - 100kW series high-power string inverters are widely used in industrial and commercial rooftops. Solis's new three-phase string inverter is the first choice for industrial and commercial photovoltaics. 75-100kW three phase series string inverter have Maximum 28 strings input, support "Y" type connection in DC side. Maximum string input current 13A, support bifacial modules access.Supports anti-PID function to improve system efficiency.