Project demonstrating grid-scale energy storage with solar generation
RICHMOND, Va., April 22, 2015- ViZn Energy Systems Inc. (ViZn), a leading provider of energy storage systems for microgrid and utility-scale applications, announces its advanced flow battery system has been installed at Randolph-Macon College to test utility integration with renewable generation. Randolph-Macon College is in partnership on a solar energy project with Dominion Resources, an East Coast utility provider and one of the nations largest producers and transporters of energy.

"We are thrilled to work with Dominion and Randolph-Macon College to have our zinc-iron redox battery as one of the two battery technologies included in the project to assess battery performance for both power and energy services," said Ron Van Dell, president and CEO of ViZn Energy Systems, Inc.
Randolph-Macon College is a private, coeducational liberal arts and sciences college located north of Richmond, Virginia.
"One of the technical challenges associated with distributed solar power is the issue of intermittency," said Mary Doswell, senior vice president of Alternative Energy Solutions at Dominion. "We hope that by combining a solar and battery solution that Dominion and its partners can more fully understand the potential benefits to the grid and to our customers."
The Z20 redox flow battery uses an abundantly available, non-toxic, nonflammable and low cost zinc and iron chemistry. It has been designed with a water-based, two-phase flow system that consists of a zinc electrode and an iron redox counter electrode, a design that aids steady and safe operation. The Z20 offers one of the fastest charge and discharge responses on the market and can withstand significant temperature fluctuations and facilitate multiple discharge cycles each day. It is the most cost-effective flow battery system on the market today.
About ViZn Energy Systems, Inc.
ViZn Energy Systems, Inc. is comprised of a visionary team of scientists, engineers and business leaders who are passionate about creating and commercializing a revolutionary energy storage solution for the commercial & industrial, microgrid and utility-scale markets. Founded in 2009 and based on eight previous years of research, ViZn is commercializing a highly scalable energy storage systems, ranging from tens of kilowatts to mega-watt storage. The ViZn solution is safe, reliable, cost effective, and scalable to meet the needs of todays ever-changing energy landscape. For more information, visit: www.ViZnEnergy.com.
About Dominion
Dominion Virginia Power is a subsidiary of Dominion (NYSE:D). Dominion is one of the nation's largest producers and transporters of energy, with a portfolio of approximately 24,600 megawatts of generation, 12,200 miles of natural gas transmission, gathering and storage pipeline, and 6,455 miles of electric transmission lines. Dominion operates one of the nation's largest natural gas storage systems with 928 billion cubic feet of storage capacity and serves utility and retail energy customers in 13 states. For more information about Dominion, visit the company's website at www.dom.com.
Featured Product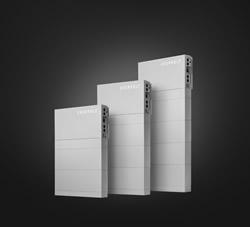 Extract maximum power production from every roof size and shape. HIT® AC Series combines the module efficiency of Panasonic solar panels with the intelligence of Enphase microinverters. A built-in IQ 7X microinverter with Individual MPPT (Module-level Power Point Tracker) tracking helps deliver an all-in-one module that offers design flexibility, reduced installation time, and a higher ROI. Field-replaceable microinverter with no DC wire management required yields lower cost of ownership.