Mayor Eric Garcetti awarded this years Outstanding Small Businesses at the Small Business Recognition Ceremony held at Los Angeles City Hall on May 4th.
Los Angeles, CA May 07, 2015

Pick My Solar has been recognized as a 2015 Outstanding Small Business by the U.S. Small Business Administration, Small Business Development Center as part of Los Angeles Small Business week. The company is at the forefront of LAs burgeoning green economy and has assisted over 10,000 homeowners with solar pricing data since its founding in 2013.
Co-Founders Max Aram and Chris Blevins were excited to hear that their young company had been chosen. "We are very honored to be recognized for the success we have enjoyed in bringing transparency and fairness to the solar market in Southern California. As we expand the Homeowner's Advocate brand nationwide we look to continue to leverage the tremendous resources which the City of Los Angeles has offered us," said Mr. Aram.
"I have had the pleasure of mentoring and observing Max and Chris from the time they identified a big problem in the business of home solar panel installation and came up with their big solution," said Andy Shrader, Director of Environmental Affairs & Sustainability for Los Angeles City Councilmember Paul Koretz. "I'm not at all surprised that Pick My Solar won a '2015 Outstanding Small Business Award' and I am confident it will win more awards, as the pair continues to transform and simplify the home solar industry with their message of fair, reasonably-priced solar power. In the larger context of climate change mitigation and the race towards clean energy, their work is not only important, it is vital."
Pick My Solar is a Portfolio Company at the Los Angeles Cleantech Incubator (LACI). Fred H. Walti II, Executive Director at LACI stated, "Pick My Solar is a great example of a company harnessing the innovative, entrepreneurial spirit here in the LA region. Not only are they making a positive environmental impact through the services they offer, they're saving homeowners money and contributing to the increase in home solar installations, which helps create jobs in LAs green economy."
The awards were presented on behalf of the City of Los Angeles by Mayor Eric Garcetti at a ceremony held at Los Angeles City Hall on May 4th.
About Pick My Solar
Pick My Solar was founded in 2013 by Max Aram and Chris Blevins. As social entrepreneurs and environmental stewards, Max and Chris are passionate supporters of solar energy. They entered the solar industry with the dream of putting panels on every compatible rooftop in America but quickly determined that customer uncertainty regarding the bidding and purchase process was a major deterrent to industry growth. After examining this problem, they concluded that the solar sales process was too difficult for homeowners to navigate, and that all of the various finance options were confusing. Pick My Solar created an online marketplace to simplify the process, drive down costs and provide the consumer advocacy necessary for solar to achieve broad market success. Pick My Solar won the Long Beach City College Innovation Fund competition in 2014.
Learn More at http://www.pickmysolar.com
Featured Product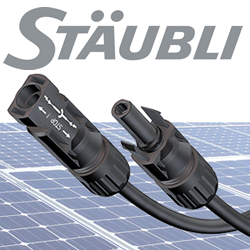 ​Stäubli Electrical Connectors are used on more than 300 GW, over 50% of the PV capacity worldwide. The MC4 family of UL and TUV listed products include connectors, in-line fuses, branch connectors, cable assembly and more.