The initiative will help APG minimize energy outages at its warehouses, lower its energy procurement costs and reduce its carbon footprint.
Bengaluru, June 2, 2015:Assetz Property Group (APG), a Singapore headquartered property development company, announced today that it has selected Imergy Power Systems, a leader in advanced energy storage solutions, as its partner for its off-grid warehouse renewable energy system initiative.

The goal of APGs initiative is to develop off-grid, renewable energy-powered systems at its new and existing Indian industrial warehouses. The initiative will help APG minimize energy outages at its warehouses, lower its energy procurement costs and reduce its carbon footprint.
APG currently plans to install its first off-grid renewable energy system at a new warehouse located in the Indian state of Karnataka.
APG selected Imergy as its energy storage partner because Imergys low-cost, high-performance vanadium flow-battery technology:
· Provides reliable and consistent power with fast charge and discharge times.
· Features unlimited cycle life.
· Can operate in temperatures ranging from -20 degrees to 55 degrees Celsius (-4 degrees to 131 degrees Fahrenheit) with no degradation in performance.
Indias rapidly growing e-commerce market is leading APG to expand its logistics warehousing business in the country. Over the next five years APG intends to invest and acquire industrial land across Tamil Nadu, Karnataka and parts of Maharashtra for their logistics warehousing business. "APGs off-grid warehouse energy system initiative will demonstrate that the real estate industry can take a leadership position in Indias shift towards a cleaner, more reliable energy infrastructure," said Ben Salmon, CEO Assetz Property Group. "The need of the hour in India and around the world is clean energy solutions, and as a responsible corporate citizen, APG will continue to adopt cost-effective solutions that reduce our carbon footprint."
"APGs use of off-grid, renewable energy for its industrial warehouses will help it significantly reduce its environmental impact," said Bill Watkins, CEO of Imergy. "By providing APG with a way to store the energy generated by their renewable energy systems, Imergys vanadium flow batteries will help APG maximize the value of their investments in off-grid renewable energy."
About Imergy Power Systems
Imergy Power Systems is a leader in stationary energy storage solutions using innovative flow battery technology. Its proven Energy Storage Platform (ESP) provides a total solution to reduce energy cost and optimize renewable power generation while improving overall power reliability. Imergy Power Systems is headquartered in Fremont, California, USA, with additional operations in Europe, Asia, and the Americas. The Companys investors include venture capital firms NEA, Technology Partners, and Blue Run. For more information about the company, please visit www.imergy.com or follow the company onTwitter.
About Assetz Property Group (APG):
Established in India in 2006, Assetz Property Group (APG) is a multi-faceted real estate development and asset management company headquartered in Singapore with operations in India, Bhutan and Australia. In India, the company has over US$1 billion assets under development and a projected project pipeline of 20 million sqft. APG is credited with developing the first IT SEZ in Karnataka and received many awards for its business parks and residential developments. The Indian platform has delivered over 4 million square feet of projects to date.
Business Verticals: Commercial Office Space, Residential Development, Luxury Housing, Mid-segment Housing, Integrated Townships and Warehousing & Logistics.
http://www.assetzproperty.com/
Featured Product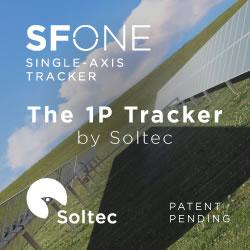 SFOne is the 1P single-axis tracker by Soltec. This tracker combines the mechanical simplicity with the extraordinary expertise of Soltec for more than 18 years. Specially designed for larger 72 an 78 cell modules, this tracker is self-powered thanks to its dedicated module, which results into a lower cost-operational power supply. The SFOne has a 5% less piles than standard competitor, what reduces a 75% the labor time.