sPower Broadens Portfolio of Renewable Energy Projects, Invests in Home State of Utah
sPower, a prominent renewable energy provider based in Salt Lake City, Utah, announced that it has acquired its first wind project, a 62.1MW facility in Monticello, Utah. The announcement is well timed, as last Monday was Global Wind Day, a worldwide event to celebrate the progress of clean, affordable wind energy.

The project, located in San Juan County in Southeastern Utah, is scheduled to begin construction this summer and should start generating clean energy at the end of 2015. The project has a 20-year PPA with PacifiCorp, which does business as Rocky Mountain Power in Utah.
"As a Utah-based company, were especially pleased with this particular acquisition. Not only will it allow sPower to apply our expertise in responsible green energy development - right in our own backyard - it demonstrates our companys 'solution-neutral philosophy," said Ryan Creamer, sPowers CEO. "While many companies are aligned with a specific technology, sPowers 'technology agnostic approach allows us to find flexible, environmentally and economically responsible solutions."
When fully operational, the wind park is expected to reduce carbon emissions by approximately 103,800 metric tons annually - the equivalent of removing nearly 22,000 cars from the road each year or reducing CO2 emissions from 241,000 barrels of oil consumed1.
"We pride ourselves on a successful history of working closely with local communities. Developing and owning projects is a long term commitment to the regions where our facilities are located," continued Creamer. "The sPower wind project will bring positive economic benefits to San Juan County, including local construction jobs, lease payments to landowners and millions of dollars in property tax revenues - all while helping to contain the damaging impact of carbon dioxide and greenhouse gas emissions."
About sPower: Headquartered in Salt Lake City, with offices in San Francisco and New York City, sPower is a prominent independent power producer (IPP) that owns and/or operates more than 150 utility and commercial distributed electrical generation systems across the U.S. and U.K. With greater than 1.7 gigawatts between construction and pipeline, sPower is actively buying select renewable assets in virtually any stage of development in North America and the UK. sPower is a portfolio company of Fir Tree Partners, a leading global investment fund with more than 20 years of investing history and approximately $13 billion of capital under management. www.spower.com
Featured Product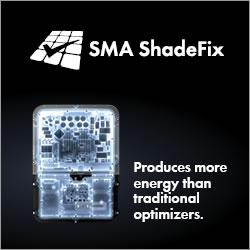 A recent university study showed SMA ShadeFix optimization produces more energy than traditional optimizers. It also utilizes far fewer components, reducing the need for costly service visits. Systems with ShadeFix optimization and SunSpec certified shutdown devices are the ideal solution for residential and commercial PV systems. Visit SMA's website to learn more and download the whitepaper.