Smappee Pro Detects Energy Guzzlers in the Workplace
SAN FRANCISCO, June 30, 2015 - Smappee, a global energy management company, today announced the launch of Smappee Pro, currently the only energy monitoring and control solution for small and midsized businesses (SMB) that can help them see exactly how much energy they are using in real time and control their office tools remotely using mobile devices -- independent of any utility. Using advanced disaggregation algorithms, Smappee Pro tracks energy consumption down to the commercial appliance level. It also maps and compares the energy usage at different offices, making it ideal for businesses with multiple locations.

While many large companies and corporations use technology to trim energy consumption and costs, there has not been an efficient and cost-effective solution for SMBs until now. Therefore, it is no surprise that small businesses consume the same amount of energy as all residential customers combined and half of the total commercial load in many major cities, according to Lime Energy, a national energy efficiency provider for small businesses.
"We have leveraged our innovative smart home technology to create Smappee Pro," said Stefan Grosjean, chief executive officer and co-founder of Smappee. "Together, Smappee, our flagship home energy monitor, and Smappee Pro can give consumers and businesses energy information and the ability to control their appliances remotely. This enables them to develop sustainable behavior to not only save costs, but also combat climate change in the long run."
Smappee Pros key features include:
Real-time Visibility: Business owners and managers have access to the Smappee Pro Web portal and mobile app (available on Android and iOS) that show real-time information of their offices energy flows and costs, across multiple offices. For example, they can see how much energy the air conditioning or lights consume and what the corresponding costs would be at any given moment.
Actionable Insight: With real-time visibility, users can easily spot energy guzzlers, triggering them to replace them with more energy efficient ones or changing particular lifestyle habits that contribute to that energy expenditure. Smappee Pros mobile app sends specific tips and advice to help users conserve energy. It also has data mining tools for managers or energy management teams to see and report energy usage, savings and carbon footprint details.
Intelligent Control: Smappee Pro allows users to control specific office appliances remotely from their mobile devices. If store managers forget to turn off certain equipment after they leave, they will be able to use the app to switch them off. Using Smappee Pro's Smart Logic capabilities, users can also create automated schedules and commands such as letting an appliance switch another on or off, or have equipment be turned on at sunrise and off at sunset. 
Solar Energy: Smappee Pro measures solar production, so users know exactly when, where and how much energy is being created in real time. It also visualizes the cost-savings of using solar energy, helping business owners see the return on investment from implementing solar panels.
Born out of the smart home market, Smappee Pro is naturally easy and quick to install. Smappee Pro has nine inputs for current clamps, which measure the energy consumption of a business, and Comfort PlugsTM, complementary adapters that fit between an office tool and the power point to enable automation capabilities. The current clamps are clipped around specific cables in the fuse box. Communication with the Smappee cloud is handled via Ethernet and optionally Wi-Fi or 4G/3G/GPRS via USB dongle.
Pricing will vary depending on the number of units a business deploys. Smappee Pro is available to be pre-ordered now and early adopters who order it from June 30 to July 30 will receive six free Comfort PlugsTM. Please visit this page, www.smappee.com/pro, or email pro@smappee.com to sign up. General availability of the product will be available in July 2015.
Featured Product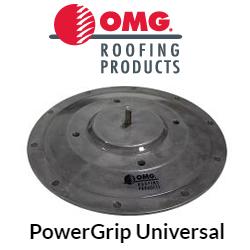 Eliminate Solar Rack Ballast and Reduce Rooftop Material Handling. PowerGrip™ Universal (PGU) is a commercial roof mount system designed to secure solar racks and other equipment to any type of commercial roofing system. PGU provides a secure connection directly to the roof deck or structural members and is designed to reduce or eliminate ballast in solar racking systems, so there's less weight on the roof and less material handling. Made of heavy-duty cast aluminum, PGU units include a base ring which is secured through the roofing cover and into the structural roof deck, and a waterproof top plate.