London, England selects BYD as builder of next generation double-decker bus
LONDON, July 2, 2015 -- One of the world's most recognized transportation systems, TFL (Transportation for London), known for their iconic red, double-decker buses, has contracted for the manufacture of a brand new, battery electric replacement. The company selected to build the next generation London Bus double-deckers is global electric vehicle leader, BYD Company Ltd.

The announcement took place at this week's C40: Clean Bus Summit held at London City Hall. Breaking the news was the Mayor of London, Boris Johnson.
"Many believed that a pure electric double-decker bus would not be possible due to the size of the battery packs required to power it," said Mayor Johnson. "However by working with BYD and utilizing the latest cutting edge technology London has been able to secure another world first. The new electric double-decker trial will see the zero emission double-decker buses manufactured by BYD enter service on Route 16 from October."
Also addressing the Clean Bus Summit was BYD's Managing Director of European Operations, Isbrand Ho.
"We are delighted to be chosen by London as its partner for the world debut of our new pure electric double-decker. As the Mayor has said, this is genuinely world beating new technology," said Ho. "Since BYD is by far the world's largest maker of zero emission pure electric buses and as such is keen to promote their take up and use as quickly as possible we are also pleased to have today supported the Declaration and pledged BYD to helping promote zero - not just ultra low - emission vehicles on the streets of the world's major cities."
BYD's Battery Electric bus employs many advanced technologies developed in-house by a staff of more than 15,000 R&D engineers including the BYD Iron-Phosphate Battery which boasts the only 12-year-battery warranty in the industry. Combined with BYD's proprietary in-wheel hub motors and regenerative braking system, the BYD battery electric bus offers the lowest life cycle cost of ownership. The BYD electric bus delivers a host of operational and environmental benefits for public transit riders, bus operators and residents of the community - it is very quiet and ensures a comfortable ride without vibrations, jerks or the noise associated with the conventional buses and combustion engines. The bus can also drive for more than 155 miles even in heavy city traffic on a single charge. As of April 1st, 2015, BYD bus fleets have completed greater than 50 million miles "in revenue service" and have been evaluated by more than 150 cities in 36 countries around the world. To date, BYD has built over 5,000 electric buses globally, making it by far the most popular electric transit vehicle on the planet.
ABOUT BYD:
BYD Company Ltd. is one of China's largest companies to have successfully expanded globally. Specializing in battery technologies, their green mission to "solve the whole problem" has made them industry pioneers and leaders in several High-tech sectors including High-efficiency Automobiles, Electrified Public Transportation, Environmentally-Friendly Energy Storage, Affordable Solar Power and Information Technology and Original Design Manufacturing (ODM) services.
As the world's largest manufacturer of rechargeable batteries, their mission to create safer and more environmentally friendly battery technologies has led to the development of the BYD Iron-Phosphate (or "Fe") Battery. This fire-safe, completely recyclable and incredibly long-cycle technology has become the core of their clean energy platform that has expanded into automobiles, buses, trucks, utility vehicles and energy storage facilities. BYD and all of their shareholders, including the great American Investor Warren Buffett, see these environmentally and economically forward products as the way of the future.
BYD has made a strong entrance to the North, Central and South American markets with their battery electric buses, and lineup of automobiles. Their mission lies not just in sales growth, but also in sociological integration and local job creation as they have poured incredible investments into developing offices, dealerships and manufacturing facilities in the local communities they now call home, truly a first for Chinese companies. For more information, please visit www.byd.com or www.facebook.com/bydcompany.
ABOUT TFL:
TFL manages one of the largest bus networks in the world, with around 8,500 vehicles in the fleet. Their subsidiary company, London Bus Services Ltd, plans routes, specifies service levels and monitors service quality. It is also responsible for 50 bus stations and 19,500 bus stops. For more information, please visit https://tfl.gov.uk/corporate/about-tfl/what-we-do/buses.
Featured Product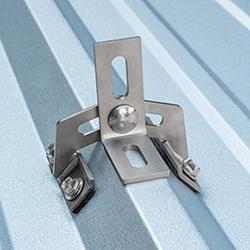 Explore new lines of income for your solar installation business with QuickBOLT's Stone Coated Steel roof mounts designed in partnership with metal roof manufacturers themselves. These SCS roof mounts work on all metal tile profiles and will help you bring in money you're missing out on. By not driving into the roofing material, QuickBOLT's Stone Coated Steel roof hooks maintain the integrity of the roof. Install with ease and confidence knowing your roof is protected against the harsh elements that these hooks are designed for.