WASHINGTON, D.C. - In response to Gov. Rick Snyder's (R-Mich.) announcement today, pledging compliance with the Environmental Protection Agencys Clean Power Plan, Rhone Resch, president and CEO of the Solar Energy Industries Association (SEIA), released the following statement:

"By pledging his commitment to the Clean Power Plan, Gov. Snyder is showing his support for both Michigans economy and environment. Solar energy works in Michigan and in all 50 states, has zero carbon emissions, creates more jobs per megawatt (MW) than any other technology, and can be deployed cost-effectively and quickly - all while improving grid reliability," Resch said. "The solar industry looks forward to helping Michigan achieve its optimal long-term strategy."
Featured Product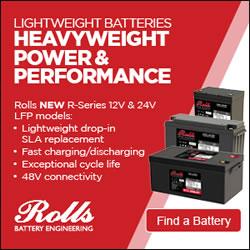 Rolls Battery has just introduced a new range of LFP lithium models. Available in 12V & 24V 50AH-300AH capacity options, the R-Series LFP lineup a lightweight, compact case design in four popular BCI case sizes (G24, G31, G49 & 8D), a customized BMS with added protections for safe & stable operation, improved cycle life (>6000 cycles @ 80% DOD) and up to 4x Series, 4x Parallel connectivity for 48V system configuration.