WASHINGTON, D.C. - In response to Gov. Rick Snyder's (R-Mich.) announcement today, pledging compliance with the Environmental Protection Agency's Clean Power Plan, Rhone Resch, president and CEO of the Solar Energy Industries Association (SEIA), released the following statement:

"By pledging his commitment to the Clean Power Plan, Gov. Snyder is showing his support for both Michigan's economy and environment. Solar energy works in Michigan and in all 50 states, has zero carbon emissions, creates more jobs per megawatt (MW) than any other technology, and can be deployed cost-effectively and quickly - all while improving grid reliability," Resch said. "The solar industry looks forward to helping Michigan achieve its optimal long-term strategy."
Featured Product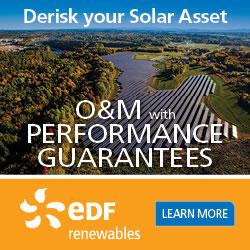 EDF Renewables offers the same innovative solutions that maximize the performance of our own 5.2 GW of installed projects. Because we're not an equipment manufacturer, our recommendations are transparent and data-driven. We cover the entire project lifecycle: from pre-commissioning support, through warranty and post warranty operation, to late stage and decommissioning.