The 32 PV plants achieved Commercial Operation before August 26th and were installed in 32 locations across Toronto for the client Potentia Solar Inc., and have capacity of 4.9 MWp

Martifer Solar Triumph, a subsidiary of Martifer Solar (subsidiary of Martifer SGPS), is a strategic partnership between Martifer Solar Canada and Triumph to serve the growing demand for solar PV in the Canadian market. The 32 PV plants range in size from 33.7 - 542.2 kWp with a combined installed capacity of 4.9 MWp and were built across Toronto for the company Potentia Solar Inc.

"We are very happy with the performance of Martifer Solar Triumph implementing our projects. The experience and versatility of their own forces is revealing to be a big advantage in our current portfolios. We look forward to continue to work with Martifer Solar Triumph in our future challenges," said Chris Asimakis, President & COO of Potentia Solar Inc.
Martifer Solar Triumph provided the EPC (engineering, procurement and construction) services for all 32 solar PV plants.
"We are proud to demonstrate yet another success as a result of this partnership with Triumph. Martifer Solar Triumph has the ability to service all of Canada, with a targeted focus on the markets of Ontario and Alberta. The company is an active player in solar Development, EPC and O&M of rooftop and ground-mounted PV projects. The experience we have gained through our track record in Canada will be vital for our upcoming projects," said Henrique Rodrigues, CEO of Martifer Solar.
The 32 PV plants connected until 26th of August were installed on rooftops with a combined area of approximately 80.000 square meters, using around 18.860 polycrystalline modules. The plants are expected to produce an estimated 5 GWh/year. With this production capacity, the 32 plants will offset 930 tons of carbon dioxide on an annual basis, which is sufficient energy to power more than 6.670 inhabitants in Canada per year.
Jaime Mata, Operations Manager of Martifer Solar Triumph, said, "It's an honor for our company having been selected to build this remarkable portfolio across the city of Toronto. These first 32 systems were built in a safe and reliable manner incorporating state-of-the art technology to meet all the top-quality and safety standards. We are grateful to Potentia for the trust in our experience and capabilities. We will continue to work hard to deliver more PV systems generating clean energy produced with total safety."
"We knew since the beginning that these projects would be challenging to implement. Potentia is a reference PV player in Canada that always demands top quality in all details of their projects. We are very happy and proud to have finished these first 32 systems meeting the deadlines, the quality and the safety expectations of our client", said Mario Ribeiro, CEO of Martifer Solar Triumph.
All these 32 PV plants are part of the package of PV plants that Martifer Solar Triumph has in pipeline for 2015 with Potentia Solar Inc. as the client. 

ABOUT MARTIFER SOLAR
Martifer Solar is a fully integrated player in the global PV market, focused on the development of photovoltaic projects, EPC and O&M services.
The company is based in Portugal and has presence in Europe (Spain, Italy, Belgium, France, Czech Republic, Slovakia, UK, Romania and Ukraine), North America and Latin America (Canada, Mexico, El Salvador, Chile and Brazil), Africa (Mozambique and South Africa) and Asia (India, UAE, Singapore and Japan).
The company has implemented more than 670 MW of photovoltaic energy worldwide, and manages more than 600MW in O&M Service.
Martifer Solar is part of the Martifer Group, a multinational industrial group with about 3,000 employees focused on metallic constructions and solar energy. Martifer SGPS, SA is the parent company of the Group and is listed on Euronext Lisbon since June 2007.
LEARN MORE AT WWW.MARTIFERSOLAR.COM
ABOUT POTENTIA SOLAR
Potentia Solar is an Independent Power Producer focused on developing, owning and operating solar photovoltaic energy systems for rooftop and ground installations. Our proven technology and demonstrated track record of delivering solar-powered electricity into Ontarios energy mix enables communities to lessen their reliance on fossil-based fuels.
The company is based in Toronto and has implemented more than 80 MW of photovoltaic energy in Canada.
LEARN MORE AT WWW.POTENTIASOLAR.COM
Featured Product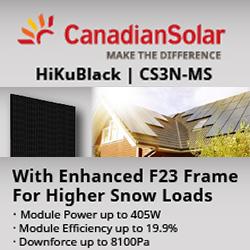 Aesthetic appearance for residential systems: With black backsheet & black frame, Power range 380 ~ 405 W, Low power loss in cell connection. Enhanced reliability: · Low temperature coefficient (Pmax): -0.34 % / °C, LID LeTID less than 2.0%, Lower hot spot temperature, Better shading tolerance.