• Largest ever global deployment of fuel cell buses • Deal includes deployment of new 30kW & 60kW power modules • Localization of module assembly, with recurring royalties
For Immediate Release

VANCOUVER, CANADA and FOSHAN & YUNFU, CHINA - At a ceremony held today in the Companys global headquarters, Ballard Power Systems (NASDAQ: BLDP; TSX: BLD) signed a new long-term license and supply agreement with an existing partner in China, Guangdong Synergy Hydrogen Power Technology Co., Ltd. ("Synergy"), to provide fuel cell Power Products and Technology Solutions in support of the planned deployment of approximately 300 fuel cell-powered buses in the cities of Foshan and Yunfu, China.
The deal has an estimated initial value of $17 million through 2016, with the opportunity for significant recurring royalties starting in 2017. The agreement includes supply and sale of fully-assembled fuel cell power modules, ready-to-assemble module kits, a technology license for localization of assembly, supply of proprietary fuel cell stacks and long-term recurring royalties leveraged to unit volumes of locally assembled modules.
"We are thrilled to have Ballard selected as the exclusive supplier of fuel cell technology for the largest ever global deployment of fuel cell buses," said Randy MacEwen, Ballard President and CEO. "The Foshan and Yunfu governments are demonstrating strong vision and leadership by championing a collaboration model that addresses mass transit needs, supports air quality initiatives and contributes to continued economic development."
Mr. Xu Guo, Vice Mayor of the City of Yunfu said, "We are moving the Cities of Foshan and Yunfu into the future by adopting clean, quiet and economical fuel cell buses. And, we are pleased to have a strong consortium of partners, including Ballard, Synergy and Feichi Bus."
Mr. Ma Dongsheng Frank, CEO of Synergy stated, "We selected Ballard, the global leader in fuel cell technology for buses, as our exclusive technology partner. Ballards flexible approach in developing a partnership model along with leading technical solutions that address the unique needs and opportunities in the Chinese market has been impressive. We look forward to localizing assembly of Ballard fuel cell modules in Foshan / Yunfu to meet the fast-growing demand for clean energy buses in China."
Mr. Chen Xiaomin, Vice Chairman of Foshan Automobile Transportation Group Co., Ltd. added, "Foshan Automotive is a leader in the manufacture of clean energy buses in Guangdong Province. We see strong demand for low carbon solutions, and are excited by the opportunity to be first-to-market with a fuel cell bus offering. This deal represents a potential catalyst for further advancement and adoption of fuel cell buses in China."
Todays ceremony at Ballard was also attended by senior representatives of the Canadian Federal Government as well as the British Columbia Provincial Government, including B.C. Minister of International Trade Teresa Wat.
Minister Wat said, "This deal shows that B.C. is ready to meet Chinas rapidly-growing clean energy needs and is a world leader in fuel cell technology with the necessary talent and skills to deliver in the global marketplace. This job-generating deal is a great accomplishment for Ballard and our government is a proud supporter of the companys growth throughout the Asia Pacific Region."
Mr. MacEwen continued, "Given its scale and importance, this deployment in Foshan will serve as a major competitive advantage for Ballard and our local partners as we seek to bring additional Chinese cities onboard. Chinas new energy program involves forty-eight cities that are focused on addressing severe air quality issues, in part through expansion of public transit, with one thousand clean energy buses to be deployed in each participating city."
Alfred Wong, Ballards Director - Sales for Asia Pacific added, "This follow-on agreement with Synergy represents a strong statement of support for Ballards technology and products in terms of meeting the emerging interest for fuel cell adoption in Chinas enormous mass public transportation sector. Ballard has a strong brand in China and we are moving quickly to seize early market demand."
On September 24, 2015, Ballard announced that the Company is developing two new configurations of its FCvelocity®-HD7 power module, to deliver 30 kilowatts (kW) and 60 kW of net power, respectively, in addition to the 90 kW net power configuration which was launched in June 2015. These two new module configurations are planned to be available for commercial deployment in 2016 and will be supplied to Synergy under the deal announced today.
Todays announcement is also in addition to Ballards June 2015 announcement regarding the signing of definitive license and supply agreements with Synergy as well as with Nantong Zehe New Energy Technology Co, Ltd. ("Zehe"), valued at $10 million, for the delivery of FCvelocity®-HD7 90kW net power modules, for use in 33 fuel cell buses to be deployed in the cities of Yunfu and Rugao, China.
Ballards high performance FCvelocity®-HD modules have demonstrated exceptional reliability while clocking millions of kilometers on the road, principally in bus fleets. FCvelocity®-HD7, Ballards seventh-generation heavy duty module, offers a number of key advantages:
• Performance - The FCvelocity®-HD7 heavy duty zero-emission fuel cell power module offers superior performance based on Ballards proprietary fuel cell stack technology, demonstrating unmatched fuel efficiency, durability and flexibility to operate in extreme conditions that include cold as well as hot, humid environments.
• Integration - A simplified and scalable design enables the module to be integrated into multiple transportation applications and the modular design of the air and cooling systems allow flexible and simple "drop-in" integration into vehicle drive trains.
• Cost Reduction - The new FCvelocity®-HD7 power module features a reduced parts count, simplified design and lower parasitic load. Key components are manufactured with high-volume production processes, thereby reducing capital cost of the module and maintenance costs associated with parts replacement over the life of the product. Ballards HD7 represents a cost reduction of more than 30% from the prior generation HD6 product and a cost reduction of approximately 65% in this product line over the past six years.
• Leadership - The FCvelocity®-HD7 reflects Ballards unmatched experience in the field, including: more than 20-years supporting transit applications; production of more than 150 modules through seven generations of product; working with ten different system integrators and OEMs to power more than 100 buses in 20 cities worldwide; powering fuel cell buses over more than 7.5 million kilometers (4.7 million miles) and transporting more than 10 million passengers in revenue service.
Further discussion of Ballards activities and plans in the heavy-duty motive power market will take place during the Companys Investor and Analyst Day, scheduled to be held on October 1, 2015 in New York City. Institutional investors wishing to attend are asked to register as soon as possible, as space is limited, by emailing Ballard at analystday@ballard.com. Ballards Investor and Analyst Day will also be webcast, with the live audio stream and presentation materials accessible through a link on Ballards homepage at www.ballard.com. Following the event, the webcast and presentation materials will be archived in the Investors section of Ballards website at www.ballard.com/investors.
About Ballard Power Systems
Ballard Power Systems (NASDAQ: BLDP; TSX: BLD) provides clean energy products that reduce customer costs and risks, and helps customers solve difficult technical and business challenges in their fuel cell programs. To learn more about Ballard, please visit www.ballard.com.
About Guangdong Synergy Hydrogen Power Technology Co., Ltd. ("Synergy")
Guangdong Synergy Hydrogen Power Technology Co., Ltd. is a Chinese integrator and solution provider focused on the market for fuel cell modules. The company is actively developing this market for mass transit solutions in China, including buses and trams.
About Foshan Automobile Transportation Group Co., Ltd.
Foshan Automobile Transportation Group is the largest comprehensive road transport enterprise in Foshan City, with more than 7,000 employees. The company is a comprehensive transportation group consisting of diversified businesses, such as passenger transport, public transit, cross-regional city buses, taxis, car rentals, logistics, energy supply, automobile manufacturing, auto repair, technician education and vocational training.
This release contains forward-looking statements concerning market demand for our products, product attributes, anticipated customer benefits and market drivers for our products. These forward-looking statements reflect Ballards current expectations as contemplated under section 27A of the Securities Act of 1933, as amended, and Section 21E of the Securities Exchange Act of 1934, as amended. Any such forward-looking statements are based on Ballards assumptions relating to its financial forecasts and expectations regarding its product development efforts, manufacturing capacity, and market demand.
These statements involve risks and uncertainties that may cause Ballards actual results to be materially different, including general economic and regulatory changes, detrimental reliance on third parties, successfully achieving our business plans and achieving and sustaining profitability. For a detailed discussion of these and other risk factors that could affect Ballards future performance, please refer to Ballards most recent Annual Information Form. Readers should not place undue reliance on Ballards forward-looking statements and Ballard assumes no obligation to update or release any revisions to these forward looking statements, other than as required under applicable legislation.
This press release does not constitute an offer to sell or the solicitation of an offer to buy securities. The Ballard Common Shares have not been registered under the United States Securities Act of 1933, as amended, or the securities laws of any other jurisdiction and may not be offered or sold in the United States absent registration or an applicable exemption from registration requirements.
Further Information: Guy McAree +1.604.412.7919, media@ballard.com or investors@ballard.com
Featured Product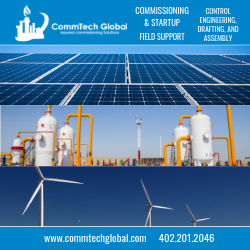 CommTech Global Solutions, LLC, provides professional and reliable commissioning services to customers in all realms of the energy industry. We blend our skills in engineering and technology with innovative business models, offering a complete range of services to assist you for a successful and in compliance operational startup. Consolidation of all our service domains gives our clients a comprehensive set of expertise and far-reaching experience on each project.