Circular Energy launched their innovative solar power buyback program today which helps customers maximize their overall return on their investment in their distributed solar energy system.
Customers with qualifying solar energy generation facilities will receive a quarterly check for any excess energy they deliver to the electricity grid when they participate in the Circular Energy program.

"With our new solar power buyback program, businesses and homeowners can maximize their return on the investment in their solar energy systems. We pay them for every kilowatt-hour that flows out to the electricity grid at the prevailing electricity market price. Our program gives customers the full price for their electricity and importantly, if prices rise over time, their quarterly check grows larger as the price of electricity grows," said Robert Schleider, VP Energy Supply with Circular Energy.
Every day across the United States, more and more businesses and homeowners are installing distributed solar energy solutions, helping them hedge against rising energy costs and operate in a more sustainable way. Many of these businesses and homeowners who own solar energy systems generate extra electricity which is delivered into the electricity grid. Unfortunately for many of these customers, they are simply giving this power away, as their electricity company does not pay them for this excess power produced. These businesses and homeowners are essentially losing money since they are not being compensated for the power sent back to the electricity grid.
Circular Energy is helping customers solve this problem with its innovative solar power buyback program, which is offered in conjunction with serving their retail electricity needs.
"With the installation of a solar array at our Ft. Worth office in late 2014, we cut our energy bought from the market this summer by more than fifty percent versus last year. Now, with the money we will earn through the Circular Energy solar power buyback program, we are able to offset our remaining electricity bill by almost 9 percent," added Schleider.
About Circular Energy
Circular Energy is changing the way business owners buy electricity. With headquarters in Austin, Texas, Circular Energy brings over 100 years of energy expertise focused on renewable energy solutions, innovative electricity products and energy intelligence. Circular Energy is dedicated to helping American businesses with high-quality, affordable, resilient and sustainable energy solutions. Find out more by visiting www.CircularEnergy.com.
Certain conditions apply for the Solar Excess Generation Program. Customers can find all of the terms and conditions by calling Circular Energy at 844-776-7693. This program is offered through Pro Power Providers, LLC d/b/a Circular Energy PUCT Certificate No. 10216.
Featured Product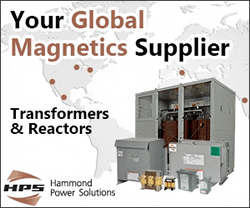 HPS is the largest manufacturer of dry-type transformers in North America. We engineer and manufacture a wide range of standard and custom transformers that are exported globally in electrical equipment and systems. We support solid industries such as oil and gas, mining, steel, waste and water treatment, and wind power generation. HPS leads the industry in these markets through its technical design strength, breadth of product, and manufacturing capabilities, making HPS a stronger company both fundamentally and financially.