NRG EVgo and Princeton Power Systems provide DC to DC technology for the University of California, Irvines Solar Decathlon Entry
Princeton, NJ and Irvine, CA - October 8, 2015 — Princeton Power Systems, a leading global designer and manufacturer of technology products and embedded software for energy management, microgrid operations, and electric vehicle charging, and NRG EVgo, the nations leading provider of public DC fast charging, have partnered to provide solar powered charging technology for Team Orange Countys (University of California, Irvine; Chapman University; Irvine Valley College; and Saddleback College) entry into the Solar Decathlon. The U.S. Department of Energy Solar Decathlon is a biennial event that this year challenges collegiate teams to design, build, and operate solar-powered homes that are cost-effective and energy efficient. The 20 national and international teams will demonstrate their projects from October 8-18, 2015, at the public event at the Great Park in Irvine, CA.

NRG EVgo and Princeton Power Systems together are providing a first-of-its-kind "CA-10" power converter that allows an electric vehicle to charge at a rate of 10kW directly from the home solar array, in addition to also allowing power to flow back to the grid. The CA-10 maximizes the DC power output from the solar array and through a DC-DC converter provides DC fast-charging directly to the electric vehicle. The direct DC-DC conversion reduces losses associated with power conversion by over 50%, maximizing efficiency and reducing charging time. It is currently compatible with vehicles supporting the CHAdeMO charging standard, such as the Nissan LEAF.
The station can also output power to the grid, or the home when the grid is not available. It meets UL and safety requirements to allow ease of permitting and resident peace of mind. NRG EVgo is donating the CA-10 product to the UC Irvine team, while Princeton Power is providing design consulting and on-site support. The CA-10 solar charging station is based on Princeton Powers DRI-10 4-port hybrid inverter and will be the first solar fast-charger UL listed to both 1741 and 2202 for grid-interaction and car charging respectively.
"Team OCs entry into the Solar Decathlon is more than just a forward-looking technology demonstration," said Darren Hammell, Co-Founder and Chief Strategy Officer at Princeton Power Systems. "By partnering with companies that are leading the deployment of electric vehicles, solar energy, and charging infrastructure, the team is showing what is possible today when industry and academia collaborate."
"NRG EVgo is a leader in deploying electric vehicle infrastructure across the U.S.," said Scott Fisher, Director, Alternative Energy at NRG EVgo. "Our collaboration with Princeton Power Systems and Team OC allows us to better understand how next-generation charging stations can benefit our customers."
NRG EVgo commissioned Princeton Power Systems to develop the innovative CA-10 solar fast-charging technology, and is a sponsor of the UCI team. The precendent setting technology provides a more efficient and fast way to directly charge an electric vehicle from solar energy, as well as the capability to provide power for the home independent of the electric grid.
About NRG EVgo
EVgo SM leads Americas electric vehicle revolution. Our mission: Build the nations largest EV charging network while improving the planet and boosting the economy. At home, work, and on the road, we put the right chargers in the right places. Together we unite the EV movement for all, making it unstoppable. Service plans offered by EVgo can provide EV owners a home or workplace charger and use of EVgos Freedom Station sites and other public charging stations. EVgo is a wholly owned subsidiary of NRG Energy, Inc., a Fortune 200 company at the forefront of changing how people think about, buy and use energy. Through EVgo, NRG provides access to hundreds of public charging sites across 26 cities including Atlanta, Chicago and the greater Washington D.C. area plus many in California, and Texas. To find out more, or to join the EVgo network, visit www.nrgevgo.com. Connect with EVgo on Facebook and follow us on Twitter @nrgevgo.
Featured Product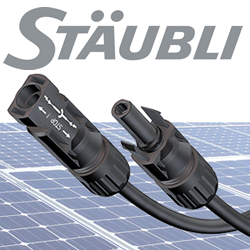 ​Stäubli Electrical Connectors are used on more than 300 GW, over 50% of the PV capacity worldwide. The MC4 family of UL and TUV listed products include connectors, in-line fuses, branch connectors, cable assembly and more.