Grid Resilient 125kW Power Conversion Systems to Be Deployed in Japan and China
AUSTIN, TX -- 10/29/15 -- Ideal Power Inc., (NASDAQ: IPWR), a developer of innovative power conversion technologies, announced today that it has received initial purchase orders from two separate customers for multiple units each of its Grid Resilient 125kW Power Conversion Systems, utilizing the company's patented Power Packet Switching Architecture™ (PPSA). The systems will be incorporated into energy storage projects in Japan and China and represent the company's first commercial orders for deployment in Asia. The orders are for delivery in 2015.

"We have established a strong market position for behind-the-meter energy storage applications in the U.S.," commented Dan Brdar, CEO of Ideal Power. "We are beginning to receive interest in our grid resilient systems from around the globe for both BESS and microgrid applications. These orders represent our first grid-connected resilient power applications in China and Japan. We see tremendous growth opportunities for our products in Asia through these customers and other relationships we are establishing, and anticipate receiving volume orders in 2016."
Energy storage is a global business. According to Navigant Research, global installed energy storage capacity is expected to reach 20.8 GW in 2024. Navigant predicts that worldwide revenue from energy storage will reach $15.6 billion by 2024. Ideal Power supplies its Power Conversion Systems principally for distributed energy storage projects, a segment of the market that is growing rapidly.
Ideal Power's Grid Resilient 125kW Power Conversion System is a true global product as it is software configurable to operate in both 50Hz and 60Hz environments, making it well-suited for distributed energy storage applications worldwide. It provides best-in-class efficiency with the smallest footprint on the market, has dramatically lower shipping and installation costs when compared to conventional technology, and is designed to simplify deployment and systems integration.
About Ideal Power Inc.
Ideal Power Inc. (NASDAQ: IPWR) has developed a novel, patented power conversion technology called Power Packet Switching Architecture™ (PPSA). PPSA improves the size, cost, efficiency, flexibility and reliability of electronic power converters. PPSA can scale across several large and growing markets, including commercial grid storage, combined solar and storage, microgrids, and electrified vehicle charging. Ideal Power also has a capital-efficient business model that can enable it to address these markets simultaneously. Ideal Power has won multiple grants for its PPSA technology, including a $2.5 million grant from the Department of Energy's Advanced Research Projects Agency - Energy (ARPA-E) program, and market-leading customers are incorporating PPSA as a key component of their systems. For more information, visit www.IdealPower.com.
Featured Product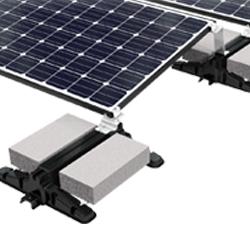 The Power Rail™ Commercial Mounting System is designed with the professional PV solar installer in mind. Both the XD/UD and LD/MD rails feature single tool assembly with the revolutionary patented RAD™ Lock-in-Place bolt for fast and secure module clamping. The high strength marine-grade aluminum rails include an integral wiring channel for securing cables and providing a professional finish.