Minnesota Municipal Power Agencys renewable energy facility wins honors from American Biogas Council
MINNEAPOLIS--The Minnesota Municipal Power Agencys Hometown BioEnergy facility in Le Sueur, MN, has been awarded national recognition as "Biogas Project of the Year" by the American Biogas Council.

The Hometown BioEnergy facility uses an anaerobic digestion process to produce renewable electricity from food processing and agricultural waste. Electricity generated from methane gas can be dispatched to the local distribution system at times of highest demand.
The facility was developed by the Minnesota Municipal Power Agency (MMPA), an organization of 12 municipal utilities, in collaboration with its management partner, Avant Energy of Minneapolis.
The Washington-based American Biogas Council is a trade association dedicated to creating jobs, environmental sustainability and energy independence by growing the American biogas industry.
According to Steve Schmidt, MMPA chairman, "Were very proud of this award because it recognizes the innovation built into Hometown BioEnergy, where we produce methane and store it, ready to burn in our generators during on-peak hours when the value of the energy is highest."
"This biogas facility, because of its ability to store biogas until its needed, is an excellent complement to renewable power generated from wind or solar," he said.
Patrick Serfass, Executive Director of the American Biogas Council said in a news release announcing the award, "The quality of innovation in the biogas industry is at a fever pitch today."
Hometown BioEnergy was also was recognized by POWER magazine as a 2014 Top Renewable Plant and was featured on the cover of the December 2014 magazine.
More information about MMPA is available at www.mmpa.org. MMPAs management partner is Avant Energy, a Minneapolis-based energy management company and an innovative supplier of energy project development, management, trading, consulting and utility operations services. See more at www.avantenergy.com.
Featured Product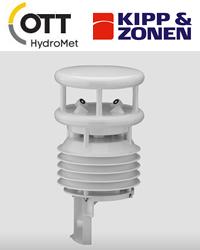 The WS50PV is an affordable, compact all-in-one weather sensor measuring the most critical parameters for commercial and industrial PV monitoring. Equipped with a suite of professional measuring sensors, the WS50PV can handle air temperature, relative humidity, barometric pressure, wind direction, and wind speed in one efficient housing to simplify mounting. Add an external temperature or rain sensor to the single-wire digital Modbus interface for fast and easy integration. The WS50PV is the tool you need for unlocking solar energy performance.