Solar is the fastest-growing source of energy in America today.
WASHINGTON, D.C. - The Solar Energy Industries Association (SEIA) applauded the commitments made today at the White House National Community Solar Summit to increase access to solar energy for all Americans. Following this morning's announcement by White House officials and Department of Energy Deputy Secretary Elizabeth Sherwood-Randall, SEIA President and CEO Rhone Resch issued the following statement:

"We are pleased to see the commitment that these companies and organizations have shown in investing in community solar projects and SEIA, along with a number of SEIA members, are proud to be among the 68 partners that have pledged to increase community solar development. This is an area of dramatic growth for our country and the commitment of more than $545 million in investment in 21 states provides a great jumpstart to scale up solar for the more than 20,000 low- and moderate income households that can now take advantage of the opportunity. It proves the model for successful deployment of solar across a range of diverse neighborhoods. There is no doubt that community solar can help the U.S. transition to cleaner sources of energy and it can create jobs and economic activity in communities that have the most to gain from robust solar development. The fact that low and medium income households can participate in our nations clean energy revolution, and lead the way in improving their communities, is a giant step in the right direction and we applaud the administration for its leadership in this area."
Solar is the fastest-growing source of energy in America today, employing 174,000 Americans - more than Google, Apple, Facebook and Twitter combined.
Featured Product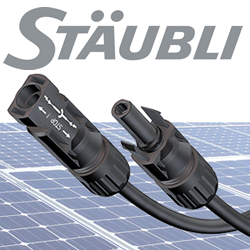 ​Stäubli Electrical Connectors are used on more than 300 GW, over 50% of the PV capacity worldwide. The MC4 family of UL and TUV listed products include connectors, in-line fuses, branch connectors, cable assembly and more.