Important Changes To ONCOR's 2016 Commercial Solar Incentive
After last years ONCOR Solar Incentive Program filled up in a matter of seconds, businesses in the ONCOR service territory are hoping the new program opening on January 11th, 2016 will be a little more equitable in its distribution.

In the very brief 2015 program, $4.2 million of ONCORs Solar Incentive was claimed in a matter of seconds and allocated to 12 projects. Without access to the solar rebate they had promised their customers, many solar companies were left with projects in limbo, or worse, cancelled commitments.
The Texas solar industry has higher hopes about 2016, however, as the program budget was increased by 80% to $7.6 million dollars.
The second Monday in January marks the opening of ONCORs 2016 Commercial Solar Incentive submissions round, and the hope is that a bigger budget with a bid process, reserved funds for smaller projects and more a more stringent application process will give more businesses and installers the opportunity to participate in what is seen as a sweet-spot year for solar with the 30% Federal Tax Credit scheduled to move to 10% at the end of the year.
ONCOR seems to better understand the growing interest in commercial solar, and has revised the program to help prolong the solar rebate funds. A new small commercial tier was created for projects sized 100 kW and less. This is in contrast to last years program which saw all sizes of projects competing for the same rebate dollars. A separate category for large 100 kW+ projects is also available in 2016 and all of those funds are expected to be allocated in a one-time bid process where companies will specify how much rebate their project needs to make economic sense for them. Thanks to these changes ONCOR is expecting to see 10X as many projects through the program this year.
"ONCORs updates to their commercial solar incentive program mean that in 2016 a Texas business in the ONCOR service territory that is accepted into the program can expect a solar project to provide a return on investment in 4-6 years in most cases," said Roger Jennings, Managing Director of Circular Energys Commercial Division.
Along with competition for ONCORs solar incentive there is also a sense of urgency for businesses in Texas and across America to get their projects installed and completed in 2016 to take advantage of the Federal Investment Tax Credit (ITC). The 30% Federal ITC is set to decrease to 10% beginning January 1, 2017.
ONCOR is Texass largest electric delivery business and the sixth largest in the United States with 10 million customers in their service areas. It makes sense then, that ONCOR is taking measures to ensure reliable grid power that is reliable and compliant with expected regulations coming from the new Clean Power Plan. The additions of more solar, along with energy storage, are electric infrastructure enhancements theyre targeting in 2016.
ONCOR completed a four-part microgrid during the first half of 2015 which uses energy storage and renewable energy resources designed to showcase how the pairing can enhance grid reliability.
Moving forward, it is not certain whether ONCOR will continue an upfront incentive program as there are new proposals to the utility that would allow for solar to be aggregated and treated like any other power generation source (i.e. a natural gas plant) on the wholesale electricity market. Similar programs are underway in California and New York and it is expected that this could be the future of energy as solar becomes more competitive and other sources of power become more costly.
Circular Energy is recommending that prospective solar customers request information sooner rather than later to ensure enough time is given to have applications ready to submit prior to opening.
About Circular Energy
Circular Energy is changing the way business owners buy electricity. With headquarters in Austin, Texas, Circular Energy brings over 100 years of energy expertise focused on renewable energy solutions, innovative electricity products and energy intelligence. Circular Energy is dedicated to helping American businesses with high-quality, affordable, resilient and sustainable energy solutions. Find out more by calling 1-866-274-5578 or visit CircularEnergy.com
Featured Product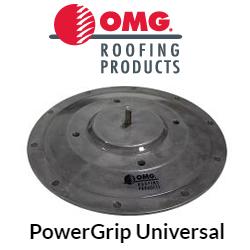 Eliminate Solar Rack Ballast and Reduce Rooftop Material Handling. PowerGrip™ Universal (PGU) is a commercial roof mount system designed to secure solar racks and other equipment to any type of commercial roofing system. PGU provides a secure connection directly to the roof deck or structural members and is designed to reduce or eliminate ballast in solar racking systems, so there's less weight on the roof and less material handling. Made of heavy-duty cast aluminum, PGU units include a base ring which is secured through the roofing cover and into the structural roof deck, and a waterproof top plate.