Seven months ahead of the exhibition around 80 percent of exhibition space has already been booked
Munich, 04 December 2015 - Seven months ahead of the start of ees Europe 2016, most of the exhibition space for Europe's Largest Exhibition for Batteries and Energy Storage Systems has already been booked - and this despite the fact that following the huge success of last years exhibition, capacities have already been considerably increased from 9,000 square meters in 2015 to 12,000 square meters in the coming year. The growing interest reflects the energy storage industrys vast market potential as well as its relevance for the energy transition and future energy supply.

From storage systems for homeowners to technical solutions for distributed storage systems to large-scale storage systems for commercial and industrial applications: The market potential for battery storage systems is enormous. The German think tank Agora Energiewende (Energy Transformation Initiative) estimates the combined potential of the German market at up to 200 GW of storage capacity. Growth is spurred on by steadily diminishing investment costs. While the lions share lies in the area of battery storage systems for e-mobility, single home storage systems and storage devices for commercial applications and balancing reserves are also promising areas, with a total potential of up to 68 GW of output, and a possible total capacity of 176 GWh.
The flourishing market for photovoltaic storage systems contributes to this positive environment. According to the latest forecasts by EuPD Research, the European market for photovoltaic storage systems may grow more than four-fold, to almost 900 million euros per year, between 2015 and 2020. With a current share of around 90% of all new PV storage system installations in Europe, Germany is spearheading this development. The share of renewable (and thus volatile) energy in the power grid in Europe, and in Germany in particular, is greater than anywhere else in the world, making the region the driver for the global market.
Industry whos who meets at ees Europe
Manufacturers, suppliers, distributors and research institutes will once again showcase the entire value-added chain of battery and energy storage technologies at ees Europe from June 22-24. Eight of the ten leading suppliers of PV storage systems in Germany have already booked their exhibition space, including Deutsche Energieversorgung, E3/DC, Hoppecke, Samsung, Sonnenbatterie and Varta. Key industry players IBC and SMA will be exhibiting at Intersolar Europe, which takes place in parallel with ees Europe. Leading battery producers such as Fiamm, LG Chem, Panasonic, SAFT and Trojan will be there, along with companies specializing in intelligent systems integration, such as ABB, ads-tec, Bosch, Imeon Energy, Nidec, RRC Power Solutions and Solarwatt. A rising number of exhibitors, among them Deutsche Accumotive, TESLA and Mitsubishi Motors have a product portfolio that covers both the storage of renewable energies and e-mobility. Special areas, such as the shared booth for start-up companies supported by the Federal Ministry for Economic Affairs and Energy (BMWi), offer an effective platform for presenting products and services to exhibitors of both ees Europe and Intersolar Europe. China and Taiwan are co-presenting at their own country pavilions and the special exhibit on E-Mobility & Renewable Energy provides exposure to suppliers of electric vehicle and charge systems.
The energy storage industry turns out in force
From individual components and production processes to specific examples of use, products and services, the ees Forum, the ees AWARD and the ees Europe Conference offer an attractive accompanying program complementing booth presentations. This wide range of options once again makes ees Europe 2016 the international meeting point for industry experts from all over the world. In total, around 380 of the more than 1,000 exhibitors at ees Europe and Intersolar Europe 2016 present products, solutions and services in the field of energy storage. The organizers expect approx. 40,000 visitors to next years ees Europe and the concurrent Intersolar Europe.
ees Europe 2016 takes place alongside Intersolar Europe at Messe München from June 22-24, 2016.
Further information on ees Europe 2016 can be found at www.ees-europe.com.
About ees
The global ees exhibition series is the industry meeting point, bringing together manufacturers, distributors, users and suppliers of stationary and mobile electricity storage systems. The ees exhibitions are co-organized with Intersolar, the leading exhibition series for the solar industry.
The ees exhibitions and accompanying ees Conferences are dedicated to renewable energy storage solutions, from residential and commercial applications to large-scale storage systems for stabilizing the grid. Other focal points are the topics of energy management, e-mobility and uninterruptible power supply (UPS).
With ees Europe in Munich, ees North America in San Francisco and ees India in Mumbai, ees is represented on three continents. ees Europe is the continents largest exhibition with the greatest number of visitors for the battery and energy storage industry. 158 exhibitors took part in ees Europe 2015 (326 companies together with energy storage exhibitors at Intersolar Europe) and approx. 38,000 visitors from 165 countries flocked to Munich.
Partners of ees Europe
ZVEI (German Electrical and Electronic Manufacturers Association), EUROBAT (Association of European Automotive and Industrial Battery Manufacturers), Naatbatt (National Alliance for Advanced Technology Batteries) and BSW-Solar (German Solar Association)
For more information on ees Europe, please visit: www.ees-europe.com
Featured Product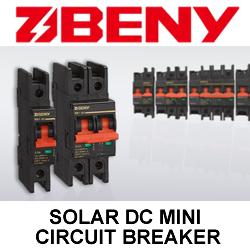 The BB1-63 modular miniature circuit-breakers can be used in solar DC circuits up to 1200 VDC (4-poles execution). Application in solar DC circuits, battery energy storage systems and UPS. Arc flash barrier design keeps solar equipment more safe and reliable. For DC circuit over-current protection.