Innovative Software Accelerates Solar Project Design and Engineering
PVComplete Design Platform Software Selected by REC Solar

Innovative Software Accelerates Solar Project Design and Engineering
BERKELEY, CA DEC. 14, 2015 - Today PVComplete, a leading solar design software provider, announced that it has selected by REC Solar as their PV project design platform. REC Solar, a national provider of commercial solar and energy solutions based in San Luis Obispo, Calif., serves customers nationwide in the retail, manufacturing, agriculture, technology, government and nonprofit sectors. RECs choice of PVComplete underscores the companys keen interest in accelerating precision project design and engineering.
"REC Solar is focused on delivering reliable solar solutions that will stand the test of time," said Brian Meichtry, Senior Engineering Manager at REC Solar. "To increase design productivity and accuracy, weve chosen PVComplete as our design platform software. Their platform enables us to design quality, state of the art solar systems in 1/3 the time. This translates to into significant savings for our customers."
"Were delighted that REC Solar, a highly-regarded renewable energy leader, has selected PVComplete for project design and engineering," said Claudia Eyzaguirre, CEO and co-founder of PVComplete. "Using this platform, solar project designers -for the first time- can get energy production modeling directly from their CAD drawings. The side-by-side comparison afforded by PVCompletes platform allows for the best PV project design choices."
PVComplete is a game changer for solar project design. While the solar industry has grown rapidly, design methods have not evolved significantly over the last decade. With PVComplete, project designers can go beyond designing systems to code - making sophisticated design choices that increase energy output and lower project costs. Each design choice can be quantified through the energy production model available with one click. Project costs can be estimated with greater accuracy through the generation of an automatic bill of materials with detailed information on modules, inverters, attachments and cabling - down to the inch. PVComplete performs all the electrical calculations necessary for solar project design, reducing the need for cumbersome spreadsheets and scrap paper calculations. The companys automated wire stringing does in 60 seconds what otherwise takes an afternoon.
About PVComplete
PVComplete has devised a solar design platform for generating solar project designs faster and more accurately. PVComplete is seamlessly integrated into the AutoCAD environment; designers and engineers get solar specific design tools integrated into a software known worldwide, without having to learn a new software. For more information, visit: PVComplete.com or call 1-510-768-7948.
About REC Solar
REC Solar is a renewable energy provider focused exclusively on businesses and backed by Duke Energy, one of the largest energy companies in the world. Incorporating experience from more than 500 successful commercial solar installations over 17 years, REC Solar tailors financing and technology solutions to immediately deliver bottom line savings. REC Solar makes commercial solar simple, working seamlessly with customer operations to deliver clean energy for decades. For more, visit RECSolar.com or call 844 REC-SOLAR (844-7327652).
Contact: Susan DeVico SusanDV@aol.com 510 339-1527
Featured Product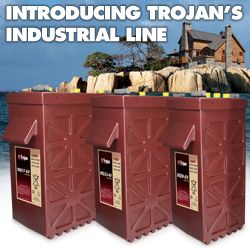 Trojan's deep-cycle batteries provide rugged durability, outstanding performance and long life for use in all types of solar energy installations. With over 90 years of experience, Trojan delivers the world's most reliable and trusted batteries in flooded, AGM, Gel, and Lithium types. These batteries enable solar equipment systems to operate at a peak level of performance in the harshest conditions or the most challenging of locations and are manufactured and tested to IEC standards.