Germany based BayWa r.e. has chosen the Breeze system for wind farm management. This marks the largest German wind portfolio to be installed in Breeze to date.
Germany based BayWa r.e. has chosen the Breeze system for wind farm management. This marks the largest German wind portfolio to be installed in Breeze to date.

BayWa r.e. operates wind and PV farms in Germany, France, Italy, United Kingdom, Poland, Sweden, Austria and USA. With a portfolio exceeding 1,500MW of controlled capacity (of which 950MW are wind), BayWa r.e. is one of Europe's leading renewable energy services provider. Besides a wide range of technical and commercial services, which are delivered by a core team of experienced project managers to a wide customer base, BayWa r.e. carries out active monitoring of all wind farms with a professional 24/7 control center in Munich.
"We have done a thorough evaluation of a number of wind farm management systems and found Breeze to be the most capable system according to our needs. The people from Breeze are easy to work with and the system is continuously developed at a rapid rate", says Tobias Bittkau, Director of the Business Entity Services at BayWa r.e.
"We are very pleased to start working with BayWa r.e. They are leaders in their field and highly knowledgeable in everything surrounding renewable energy asset management and operation. We strongly believe that companies like BayWa r.e., that are willing to go further to realize the full potential of renewable energy assets will be the most successful ones", says Jonas Corné, CEO of Breeze.
About BayWa r.e.
BayWa r.e. renewable energy GmbH, a wholly owned subsidiary of BayWa AG, is responsible for the BayWa Group's renewable energy business. BayWa r.e. was founded in 2009 and is based in Munich. It acts as a holding company for various business interests in the areas of solar energy, wind power, bio-energy and geothermal energy.
BayWa r.e.'s business activities range from project development and realization to PV trade and consultation services. BayWa r.e covers the entire spectrum of technical plant support services, including maintenance. It can also undertake the commercial operations management of plants. The range of services further includes the energy trading of electricity from renewable sources, trading in biomethane, as well as the sale of green power and green gas to private and commercial customers. The company has an international focus, with its core markets in Europe and the USA.
About Breeze
Breeze is a modern software service built to assist wind turbine owners and operators in capturing the true potential of their assets. Wind turbines are remotely connected to Breeze regardless of model or brand, resulting in a single system to monitor, analyze and optimize industry-scale wind energy portfolios.
Featured Product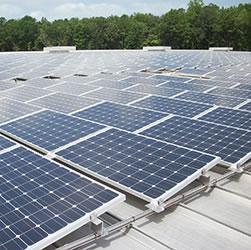 The Power Rail™ Commercial Mounting System is designed with the professional PV solar installer in mind. Both the XD/UD and LD/MD rails feature single tool assembly with the revolutionary patented RAD™ Lock-in-Place bolt for fast and secure module clamping. The high strength marine-grade aluminum rails include an integral wiring channel for securing cables and providing a professional finish.