The patent currently valued by Independent Accountants as an $8,000,000 asset has been transferred to the company.
CHEYEN
NE, Wyo., Feb. 8, 2016 /PRNewswire/ -- The directors and management of Vid3G, Inc. (OTC PINK: VIDG) announced today that the company has acquired all rights, and title to the Dynamicon Solar Kinetic System. The patent currently valued by Independent Accountants as an $8,000,000 asset has been transferred to the company. The Dynamicon Solar Kinetic Generator is a new and advanced way to power an industrial scale electric generator with nothing more than sunlight. The system uses sunlight and solar cells to keep a large bank of Lithium Ion batteries charged for 24 hour around the clock operation. The Dynamicon is a 24 hour solution utilizing solar power as a charging source. The invention once up to speed will rotate a large electric generator at 200 RPM using a heavy casing and proprietary electro magnetic propeller arms to produce copious amounts of electricity. The present invention is a reverse electric generator in that its main shaft is stationary and the outer housing armature rotates around the main shaft. Due to the Dynamicon's massive momentum or kinetic energy it requires small amounts of external energy/boost to keep it spinning. Kinetic energy provides the rotational power to generate great volumes of electrical power all from sunlight. The company intends to partner with a small community, large office complex or factory and install a system to be used as a technology demonstrator at a reduced cost to the partner. The complete system will be priced at $7 million installed and maintained for one year. The customer could break even and start generating free electricity within 24 months. An additional benefit to free power is the negative carbon footprint it creates. A Green Energy solution. To learn more, visit: www.DynamiconKinetics.com
Featured Product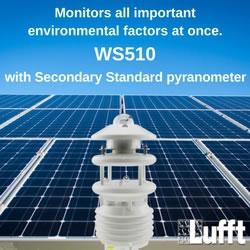 Professional weather sensors form the heart of large solar plants supporting their operation and performance. Lufft was the first manufacturer to combine several sensors in one housing, bringing the largest multiparameter weather sensor family with 19 members into being. Many of them are well-suited for solar site assessment and continuous monitoring. The most commonly used one is the WS600 delivering data on temperature, air pressure, wind, relative humidity and precipitation. Through its open protocol, it can easily be attached to radiation sensors e.g. from Kipp&Zonen. Other models have an integrated Silicon, Second Class or Secondary Standard radiation sensor.