Goldwind surges to the top: ranked number one onshore turbine seller in 2015 by commissioned capacity
London and New York, 22 February 2016 - A Chinese firm in 2015 for the first time topped an annual ranking of onshore wind turbine manufacturers. Xinjiang Goldwind Science & Technology led Bloomberg New Energy Finances annual rankings with 7.8GW of capacity commissioned, buoyed by a surging Chinese market that installed a record 28.7GW last year. Virtually all Goldwinds 2015 capacity was built in China, a market where, combined, foreign manufacturers accounted for less than 5% of market share.

Denmarks Vestas followed in second place with 7.3GW commissioned, up 2.5GW from 2014. The company pursued a global strategy, commissioning projects in 32 countries globally, 18 more than the next-highest competitor.
GE fell from first place last year to third in 2015 with 5.9GW, 700MW more than it commissioned in 2014. GE is the largest turbine provider to the US market, which accounts for 62% of its global installations.
"It's hardly surprising that five Chinese manufacturers made the top ten ranking in a year where China contributed roughly half of the global capacity," said Amy Grace, head of wind research for BNEF. "It is more surprising how dominant Goldwind was in its domestic market. The company commissioned more than two-and-a-half times the amount of capacity as the next largest Chinese manufacturer, Guodian."
In the onshore segment, which accounts for the vast bulk of the market, Germanys Siemens tied for fourth place with Spains Gamesa as both companies installed 3.1GW in 2015. Meanwhile, German firm Enercon fell to sixth place. Enercon continues to dominate its home market, which accounted for 48% of its turbines commissioned in 2015.
Four Chinese manufacturers feature in the bottom half of the global top ten onshore ranking. Guodian fell to seventh place from sixth last year, Ming Yang and Envision tied for eighth place, and CSIC joins the list for the first time in tenth place with 2GW of installed capacity.
OFFSHORE WIND: Siemens was the number one turbine manufacturer last year by a wide margin. The company commissioned 2.6GW in 2015, more than four times second-ranked Adwen, a joint venture between Gamesa and Areva.
ABOUT BLOOMBERG NEW ENERGY FINANCE
Bloomberg New Energy Finance (BNEF) provides unique analysis, tools and data for decision makers driving change in the energy system. With unrivalled depth and breadth, we help clients stay on top of developments across the energy spectrum from our comprehensive web-based platform. BNEF has 200 staff based in London, New York, Beijing, Cape Town, Hong Kong, Munich, New Delhi, San Francisco, São Paulo, Singapore, Sydney, Tokyo, Washington D.C., and Zurich.
BNEF products fit your daily workflow, streamline your research, sharpen your strategy and keep you informed. BNEFs sectoral products provide financial, economic and policy analysis, as well as news and the worlds most comprehensive database of assets, investments, companies and equipment in the clean energy space. BNEFs regional products provide a comprehensive view on the transformation of the energy system by region.
New Energy Finance Limited was acquired by Bloomberg L.P. in December 2009, and its services and products are now owned and distributed by Bloomberg Finance L.P., except that Bloomberg L.P. and its subsidiaries (BLP) distribute these products in Argentina, Bermuda, China, India, Japan, and Korea. For more information on Bloomberg New Energy Finance: http://about.bnef.com, or contact us at sales.bnef@bloomberg.net for more information on our services.
ABOUT BLOOMBERG
Bloomberg, the global business and financial information and news leader, gives influential decision makers a critical edge by connecting them to a dynamic network of information, people and ideas. The companys strength - delivering data, news and analytics through innovative technology, quickly and accurately - is at the core of the Bloomberg Professional service, which provides real time financial information to more than 325,000 subscribers globally. For more information, visit http://www.bloomberg.com/company/ or request a demo.
Featured Product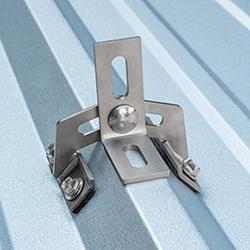 Explore new lines of income for your solar installation business with QuickBOLT's Stone Coated Steel roof mounts designed in partnership with metal roof manufacturers themselves. These SCS roof mounts work on all metal tile profiles and will help you bring in money you're missing out on. By not driving into the roofing material, QuickBOLT's Stone Coated Steel roof hooks maintain the integrity of the roof. Install with ease and confidence knowing your roof is protected against the harsh elements that these hooks are designed for.