Luxul Technology, manufacturer of plug and play LED Tubes and Title 24 compliant Lighting Control Systems will showcase it's newest products at Light Fair International in San Diego from April 26th through April 28th.
Santa Clara, CA - March 7, 2016 - Luxul Technology, Inc. will be showcasing its 2016 product lines at this year's Light Fair International (LFI) convention in San Diego, CA. Luxul Technology will be at booth #1549 in the San Diego Convention Center from April 26th through April 28th.
In addition to their full line of LED tube bulbs, Luxul will be showcasing their newest iOT Lighting Control System, MATCH 2.0TM, unveiled in March of 2016.
To better demonstrate the wider range of lighting efficiency products that Luxul has introduced over the last year, this year's booth at LFI will feature an "Experience Center" that allows attendees to experience first-hand the functions of each product. Most prominent of these are the features of the MATCH 2.0TM system, such as dimming control, daylight harvesting, and occupancy sensors.
"We believe that the more products and functions we introduce, the more important it is to give people a direct, hands-on experience of their capabilities," said Dr. James Pan, founder of Luxul. "After having put so much thought and effort into their development, we're very enthusiastic about the opportunity to demonstrate these products to the public."
To learn more about Luxul Technology at LFI in San Diego, please email them directly at services@luxultek.com or visit the Light Fair International website at http://www.lightfair.com.
Featured Product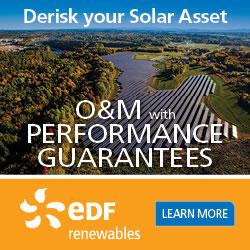 EDF Renewables offers the same innovative solutions that maximize the performance of our own 5.2 GW of installed projects. Because we're not an equipment manufacturer, our recommendations are transparent and data-driven. We cover the entire project lifecycle: from pre-commissioning support, through warranty and post warranty operation, to late stage and decommissioning.