Leading power electronics manufacturer informs installers on energy storage developments for continuing education
ARLINGTON, Wash.--(BUSINESS WIRE)--OutBack Power Technologies, Inc., a designer and manufacturer of advanced power electronics for solar energy, will participate in an energy storage panel on April 5 at 1:00 p.m. PT and will showcase its prewired system line at the 2016 NABCEP (North American Board of Certified Energy Practitioners) Continuing Education Conference, leading with the FLEXpower Radian and Nano-Carbon energy storage. With this system, solar installers and designers can save half a day of labor on configuration and installation. Additionally, the equipment is designed with residential energy independence in mind, providing homeowners and installers with reliable platforms that require little maintenance. As a result, contractors benefit from increased cost savings and improved customer satisfaction with user-friendly systems.

Adding solar with energy storage backup has many economic benefits for homeowners all over the country. To address the pent-up demand, installers can take on more projects and streamline their seasons if they have access to equipment that requires little extra training or complicated customer maintenance. OutBack Power is the only company with a UL1741-listed system from the energy storage to the rooftop. OutBacks FLEXpower Radian and EnergyCell Nano-Carbon Batteries were designed with existing and future standards in mind, ensuring return on homeowner investments despite changing policies or technology.
"The energy industry has been buzzing about the rapid growth in storage implementation for several years, and that moment has now arrived," said Eric Hill, senior manager for energy storage products and systems at OutBack Power. "Installers have trusted OutBack for the past 15 years, and well share our energy storage expertise to continue the industrys education and empower NABCEP installers to grow and evolve alongside us."
Visit OutBack Power at the 2016 NABCEP Continuing Education Conference
The OutBack Power FLEXpower Radian system with Nano-Carbon storage technology will be on display at the conference. In the "Emerging Energy Storage Options" panel, OutBack will discuss how installers can capitalize on the rapid growth in storage implementation. OutBack will also host training sessions; attendees will learn DC and AC coupling system design and installation, as well as about NanoCarbon batteries as a cost-effective entry into storage for homes and small businesses. You can learn more from OutBack Power on the advantages of solar plus energy storage at the following sessions:
Monday, April 4, 2016
8:00 - 9:30 a.m. PT in the Dockside room
Tuesday, April 5, 2016
10:00 - 11:30 a.m. PT in the Sunset V room
To view OutBacks newest systems and learn more about OutBack Powers Grid/Hybrid technology, visit the company during NABCEP at booth 111/112 or visit www.outbackpower.com.
About OutBack Power Technologies
OutBack Power Technologies, a member of The Alpha Group, is the leading designer and manufacturer of advanced power electronics for renewable energy, back-up power and mobile applications. With an emphasis on product performance, OutBack has established itself as the product of choice in harsh environmental conditions and applications where product reliability is paramount. Whether the application is village microgrids in Africa, rural electrification projects in Latin America, remote off-grid cabins in Alaska, or a suburban home in Southern California, OutBack Power Technologies has set the bar for delivering advanced power conversion electronics. For more information, please visit www.outbackpower.com.
Featured Product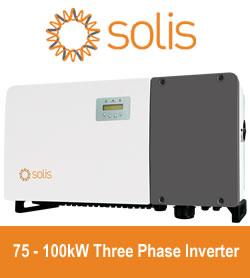 Solis75kW - 100kW series high-power string inverters are widely used in industrial and commercial rooftops. Solis's new three-phase string inverter is the first choice for industrial and commercial photovoltaics. 75-100kW three phase series string inverter have Maximum 28 strings input, support "Y" type connection in DC side. Maximum string input current 13A, support bifacial modules access.Supports anti-PID function to improve system efficiency.