The IREC 3iAwards honor innovation, ingenuity and inspiration from the nation's best in both renewable energy and energy efficiency.
The Interstate Renewable Energy Council (IREC) announces its Call for Nominees for the IREC 3iAwards - a prestigious annual national search for innovative people, projects and programs that promote and accelerate the sustainable growth of clean energy. The IREC 3iAwards honor innovation, ingenuity and inspiration from the nation's best in both renewable energy and energy efficiency.

For the third year, the selection of IREC's award winners in several categories will be in the hands of the public, with open voting dates to be announced. The opportunity for a variety of stakeholders and the community at large to vote brings even greater awareness and acknowledgement of the applicants and awardees. All applications must be received online by May 20, 2016.
"Every year IREC recognizes those who have creatively developed new approaches to advancing clean energy, because changing the status quo requires determination, innovation and persistence," said IREC Board Chair Larry Shirley. "With these awards, we honor the people who inspire us with exemplary projects and programs that increase renewable energy use and promote energy efficiency. And we encourage others to build on their successes."
IREC recognizes that renewable energy and energy efficiency play equally crucial roles in achieving a sustainable future. While traditionally government, energy industries and educational systems view them separately, with little collaboration between programs, IREC's awards are inclusive.
This year, IREC has added a new category--the Regulatory Champion of the Year
Award--recognizing a not-for-profit clean energy advocacy organization whose work through regulatory intervention, legislative support, and/or legal action successfully advanced a cleaner, consumer-driven, resilient, low-carbon electricity grid.
Applications from or on behalf of extraordinary people, projects and programs in the clean energy arena will be accepted online through May 20 in one of five categories.
• Community Renewables Project of the Year
• State and Local Government Initiative of the Year
• Regulatory Champion of the Year
• IREC Accredited Clean Energy Training Organization of the Year
• IREC Certified Clean Energy Instructor/Master Trainer of the Year
The IREC 3iAwards winners will be honored at Solar Power International 2016 at the Las Vegas Convention Center, with the the generous support of IREC's corporate sponsors.
About IREC
IREC believes clean energy is critical to achieving a sustainable and economically strong future. To pave this clean energy path, IREC works to expand consumer access to clean energy; generates information and objective analysis grounded in best practices and standards; and leads programs to build a quality clean energy workforce, including a unique credentialing program for training programs and instructors. A not-for-profit organization since 1982, IREC's programs and policies have benefitted energy consumers, policymakers, utilities and the clean energy industry. As of July 2013, IREC is an accredited American National Standards Developer. For more information, visit http://www.irecusa.org
Featured Product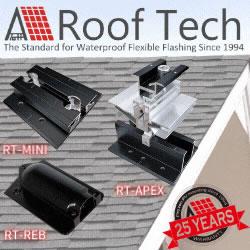 These ongoing webinars cover Roof Tech's background, product design (RT MINI and APEX), code and best practices. You will learn about a proven system that reduces installation time while keeping the integrity of the roofing system. This training will earn you one NABCEP Continuing Education Credit. The webinars are offered every Tuesday from 11 AM PDT to Noon during the months of April and May, 2020.