Utility-Solar Industry Collaboration Can Yield Innovative Solutions
WASHINGTON, DC -- Julia Hamm, President and CEO of the Smart Electric Power Alliance (SEPA) has released the following statement on the announcement of the Solar Progress Partnership's proposal for a new policy framework for solar transactions in New York:

"The Smart Electric Power Alliance congratulates the members of the Solar Power Partnership and the Advanced Energy Economy Institute on their joint proposal for solar transactions in New York, aimed at maintaining sustainable and equitable solar market growth in the state.
"While SEPA does not endorse any particular policy proposals, we believe that the partnership process in New York embodies the kind of compromise and innovation that can occur when utility and solar industry stakeholders truly listen to each other's concerns. A similar collaborative approach is one of the foundations of our 51st State Initiative, which provides a platform for stakeholder idea-sharing and electricity marketplace transformation throughout the United States."
For more information on SEPA's 51st State Initiative, visit www.sepa51.org.
About SEPA
The Smart Electric Power Alliance (SEPA) is an educational nonprofit that facilitates the utility industry's smart transition to a clean energy future. Through education, research and collaboration SEPA enables the integration and deployment of solar, demand response, other distributed energy resources and supporting technologies onto the grid. For more information, visit www.solarelectricpower.org.
Featured Product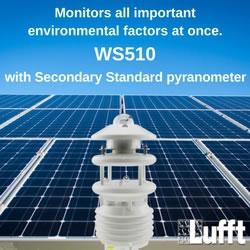 First and only Smart Weather Sensor with integrated Kipp & Zonen CMP10 Pyranometer (secondary standard). From the WS product family of professional intelligent measurement transducers with digital interface for environmental applications. Integrated design with ventilated radiation protection for measuring: Air temperature, relative humidity, air pressure, wind direction, wind speed and radiation. One external temperature or rain sensor is connectable.