Ballard's FCveloCity®-HD fuel cell power module has successfully powered a new 60-foot (18 meter) articulated bus manufactured by New Flyer Industries Canada ULC.
VANCOUVER and WINNIPEG, CANADA - Ballards FCveloCity®-HD fuel cell power module has successfully powered a new 60-foot (18 meter) articulated bus manufactured by New Flyer Industries Canada ULC, a subsidiary of New Flyer Industries Inc., the leading manufacturer of heavy duty transit buses and motor coaches in the United States and Canada. The propulsion system for the Xcelsior® XHE60 was developed through a partnership between Ballard, New Flyer and Siemens.

An inaugural road demonstration of the Xcelsior® XHE60 heavy duty bus has been conducted, with participation from representatives of Alameda County Transit (AC Transit) of California and Metro Transit of Minneapolis, Minnesota. The bus will be operated in revenue service by AC Transit for 22 months, following completion of the Federal Transit Administration (FTA) mandated comprehensive evaluation program at the Altoona test facility located at Penn State in Pennsylvania.
At that point the Xcelsior® XHE60, with a capacity of over 120 passengers and a target range of greater than 250 miles (400 kilometers), is expected to be commercially available.
The Xcelsior® XHE60 propulsion system includes a combination of batteries, Ballards fuel cell module and hydrogen storage, with the batteries capturing braking energy and providing power for bus acceleration. Ballards seventh generation FCveloCity®-HD fuel cell power module is smaller and lighter, as well as lower cost, than its predecessor.
Karim Kassam, Ballard Vice President - Commercial said, "This road demonstration represents an exciting next step in the North American clean energy mass transit market. We are working closely with our partners New Flyer and Siemens to ensure successful testing at Altoona and revenue service with AC Transit."
Paul Smith, New Flyer Executive Vice President of Sales and Marketing added, "The Xcelsior® XHE60 has the operational capabilities of no other transit vehicle in the world. We are proud of what our engineers and key partner suppliers, including Ballard, have accomplished and thank the FTA for their active sponsorship of this next generation program."
Funding has been provided through an FTA grant administered by CALSTART, a non-profit organization focused on clean air technology commercialization. The FTAs National Fuel Cell Bus Program is a cooperative initiative between government and industry to advance the commercialization of fuel cell technology in U.S. transit buses. Goals of the program include facilitating the development of commercially viable fuel cell bus technologies, improving transit bus efficiency and reducing petroleum consumption, and reducing transit bus emissions.
About Ballard Power Systems
Ballard Power Systems (NASDAQ: BLDP; TSX: BLD) provides clean energy products that reduce customer costs and risks, and helps customers solve difficult technical and business challenges in their fuel cell programs. To learn more about Ballard, please visit www.ballard.com.
This release contains forward-looking statements concerning anticipated product performance, customer benefits and market demand for our products. These forward-looking statements reflect Ballards current expectations as contemplated under section 27A of the Securities Act of 1933, as amended, and Section 21E of the Securities Exchange Act of 1934, as amended. Any such forward-looking statements are based on Ballards assumptions relating to its financial forecasts and expectations regarding its product development efforts, manufacturing capacity, and market demand.
These statements involve risks and uncertainties that may cause Ballards actual results to be materially different, including general economic and regulatory changes, detrimental reliance on third parties, successfully achieving our business plans and achieving and sustaining profitability. For a detailed discussion of these and other risk factors that could affect Ballards future performance, please refer to Ballards most recent Annual Information Form. Readers should not place undue reliance on Ballards forward-looking statements and Ballard assumes no obligation to update or release any revisions to these forward looking statements, other than as required under applicable legislation.
This press release does not constitute an offer to sell or the solicitation of an offer to buy securities. The Ballard Common Shares have not been registered under the United States Securities Act of 1933, as amended, or the securities laws of any other jurisdiction and may not be offered or sold in the United States absent registration or an applicable exemption from registration requirements.
Further Information: Guy McAree +1.604.412.7919, media@ballard.com or investors@ballard.com
Featured Product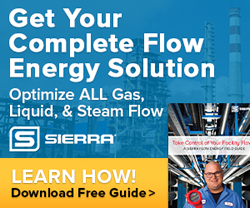 Download Flow Energy Guide - Written by Engineers For Engineers. Learn how to save on energy costs by optimizing your facility flows that impact costs like compressed air, natural gas, steam, and hot or chilled water.