For the second consecutive year, geoAMPS, a renewable energy software provider, has been selected as a Finalist for the Corporate Caring Award in Central Ohio.
geoAMPS, a provider of software solutions to improve efficiencies in the development, construction and operation of alternative energy projects, is a 2016 Corporate Caring Finalist. The awards program honors for-profit companies of Central Ohio for their financial contributions, volunteer service and other unique contributions to Columbus-area charities and nonprofit organizations.

This year marks the second consecutive year that geoAMPS has been named a Corporate Caring Finalist.
The awards program is organized by Columbus Business First, the leading weekly business newspaper serving Central Ohio. Nick Fortine, Business First President and Publisher, said more than 100 nominations were received for this years awards.
"I am very pleased that geoAMPS has repeated as a Finalist in the Corporate Caring Awards, and I want to thank Columbus Business First for organizing this important program," Yogesh Khandelwal, President and Chief Executive Officer of geoAMPS, said. "I am especially proud of all of our employees who give generously to help those in need throughout Central Ohio and elsewhere."
Finalists include small, medium and large for-profit companies and organizations throughout Central Ohio.
From the finalists, judges have selected 15 Corporate Caring Award honorees, including the Benefactor of the Year, all to be announced at an upcoming awards luncheon and nonprofit information exchange. That event is scheduled for Thursday, June 23, at the Hyatt Regency in Columbus.
Located in Powell, OH, geoAMPS is the premier provider of software solutions to manage land rights and infrastructure assets. Launched in 2011, geoAMPS has grown rapidly and today serves industry-leading organizations throughout the United States and Canada. geoAMPS offers a suite of 11 industry-specific software products, including altAMPS, software designed to meet the needs of wind, solar, biomass and geothermal energy projects. geoAMPS solutions are available across Web, mobile and GIS platforms for maximum flexibility and deployment options.
altAMPS, an efficient Web-based project- and asset-tracking system, provides industry-leading Web-based tools, such as lease management, royalty payment calculator, payment tracker and scheduler and workflow management. It complies with processes unique to renewable energy companies. There is the added capability to access information through detached tools, GIS maps and smart devices. No longer do project managers have to wait to return to the office to input and share information. Through mobile technology provided by altAMPS, that information is available at the push of a button. Project information, development and workflows are managed more efficiently.
Companies utilizing altAMPS have the option of combining its powerful capabilities with the geoAMPS GIS viewer. The GIS viewer provides an intuitive geospatial view that is compliant with popular mapping technology, such as Esri, Google Maps and Bing Maps.
geoAMPS offers a company culture that encourages philanthropy, fitness, wellness, and fun team activities during and after work hours. A key component of its company culture is a vibrant community outreach program, which engages employees in fun activities and friendly competition to raise money and in-kind donations to support a variety of national, state and local charities and nonprofit organizations. geoAMPS President and Chief Executive Officer Yogesh Khandelwal and Chief Operating Officer Leena Madan support the employees efforts through company contributions.
geoAMPS as a company and its employees have donated to the American Red Cross, ALS Foundation, American Cancer Society, American Foundation of Suicide Prevention, Columbus Literacy Council, Humane Society of Delaware County, Veterans of Foreign Wars Ohio Charities, Mid-Ohio Foodbank, Salvation Army, Akron Rotary Club, Carter Childrens College Fund, International Justice Mission, Asha Ray of Hope, Dublin Taiko Group and Gujarati Mandal of Central Ohio.
Ms. Madan is a member of the Advisory Board of the Delaware County Chapter of the American Red Cross.
To learn more about geoAMPS and how its innovative software products can bring efficiency and cost savings to your alternative energy organization, call 614-389-4871 or visit www.geoamps.com.
Dan Liggett is Communications and Public Relations Consultant for geoAMPS.
Featured Product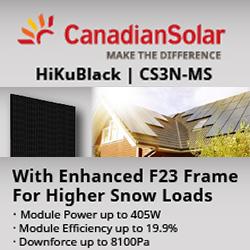 Aesthetic appearance for residential systems: With black backsheet & black frame, Power range 380 ~ 405 W, Low power loss in cell connection. Enhanced reliability: · Low temperature coefficient (Pmax): -0.34 % / °C, LID LeTID less than 2.0%, Lower hot spot temperature, Better shading tolerance.