ENGLEWOOD, Colo. (May 12 2016) - SMA retained its position as the worlds largest photovoltaic (PV) inverter supplier in 2015, maintaining the companys 14 percent share of global PV inverter revenue it held in 2014. SMA had previously dominated the global PV inverter market, but the company has been challenged to maintain its market position following the decline of the European solar market, according to IHS Inc. (NYSE: IHS), the leading global source of critical information and insight.

"In maintaining a flat market share compared to 2014, SMA ended five consecutive years of market share declines," said Cormac Gilligan, research manager of IHS technology "A major contributor to SMAs improved performance was its large market share in the U.S. and other high-growth utility-scale markets. The company also updated its inverter portfolio, which meant it had a competitive offering in residential, commercial and utility-scale and other major segments of the market. However, several suppliers also made significant market-share gains, in particular, Huawei, Solaredge and Sungrow, all of which became top-five suppliers in 2015."
Chinese suppliers grew substantially on the back of booming demand in the countrys domestic market. Shipments to the worlds largest PV market exceeded installations by a significant margin, as inverters were shipped ahead of strong installation activity continuing into the first half of 2016. Having carried out extensive data checks with Chinese suppliers, IHS estimates that shipments reached 22 gigawatts (GW).
Huawei, the Chinese telecommunications giant, became the largest supplier worldwide in megawatt-shipments in 2015, according to the IHS PV Inverter Intelligence Service. The company has been highly aggressive in promoting the use of its three-phase, low-power inverters in the utility-scale segment, and it was able to secure a significant share of its domestic market as well as 9 percent share of global revenue. Another Chinese company, Sungrow, also benefitted from rapid growth in its domestic market, maintaining a significant market share, and enabling the company to increase its global market share. As a result, it was ranked as the largest three-phase, high-power inverter supplier in 2015 for a third consecutive year.
With growth in the Chinese domestic market expected to slow in 2016, due to uncertainties around future incentive levels and grid-connection and payment delays that are likely to stifle demand, Chinese suppliers are increasingly focused on more profitable export markets. They are also continuing to gain acceptance in international markets, where they have struggled in the past, due to concerns over quality, reliability and after-sales service. For the first time in 2015, both Sungrow and Huawei exceeded 1 GW of PV inverter exports; Sungrow was the largest Chinese exporter in 2015.
Revenue share for Israeli company Solaredge climbed 3 percentage points, to reach 6 percent in 2015. "This milestone was largely aided by its success in winning over major customers in U.S. residential and small commercial markets," Gilligan said.
Japanese company Omron led the global single-phase market in megawatt-shipments in 2015 for the third year in a row, thanks almost exclusively to its large market share in its domestic residential market. "As the Japanese residential market is forecast to decrease, Omron and other Japanese manufacturers are becoming increasingly focused on expanding into new international markets, in order to safeguard against further market share declines," Gilligan said.
In the utility-scale market, TMEIC, Schneider Electric, ABB, GE and other large industrial suppliers could expand rapidly into new markets and make inroads into SMAs business by offering compatible central inverters with 1500 volt technology. "In the solar world, bankability and a wide geographical footprint are increasingly important," Gilligan said. "These types of suppliers can provide both."
About IHS (www.ihs.com)
IHS (NYSE: IHS) is the leading source of insight, analytics and expertise in critical areas that shape todays business landscape. Businesses and governments in more than 140 countries around the globe rely on the comprehensive content, expert independent analysis and flexible delivery methods of IHS to make high-impact decisions and develop strategies with speed and confidence. IHS has been in business since 1959 and became a publicly traded company on the New York Stock Exchange in 2005. Headquartered in Englewood, Colorado, USA, IHS is committed to sustainable, profitable growth and employs nearly 9,000 people in 33 countries around the world.
Featured Product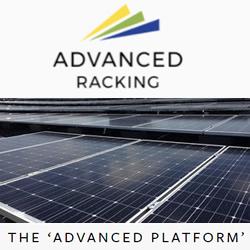 The 'Advanced Platform' simplifies the installation process by using universal mounting hardware that works perfectly across all roof types. Smart roof connection kits then connect to the specific roof's surface. The Advanced Platform is versatile: Our common design can be your single solution for all roof types.