Indias leading solar tracker developer, SmartTrak Corp., has opened its first global center in Silicon Valleys Freemont, California, to help build out its goal of adding 1 GW of global tracker projects over the coming year.
Freemont, CA. - Indias leading solar tracker developer, SmartTrak Corp., has opened its first global center in Silicon Valleys Freemont, California, to help build out its goal of adding 1 GW of global tracker projects over the coming year.

On May 17, 2016, Bhagawan Reddy Gnanapa, the CEO of SmartTrak Corp., based in Hyderabad, India, announced the opening of the companys first global center, in Silicon Valley, to build out its international business. "The fundamental plan is to assemble a talented team, make more advancements in our well-established tracker design, and to secure international certifications for our customers," says Gnanapa.
"Designing our product from the ground up, we have created a cost-effective and highly reliable tracker system, which has been time-tested in some of the harshest environments in the world," notes Gnanapa. "Building on our rapidly-growing base of over 150MW of solar trackers shipped worldwide, our global goal now is to supply 1 GW of projects over the coming year," he says.
"From our new home in Silicon Valleys Fremont, CA., we are very excited about the strong prospects of soon unveiling our next generation solutions for even more reliable, scalable and bankable solar power plants," says Gnanapa.
Realize the true potential of solar with Helios S1 tracking!
Our horizontal single axis tracker, the Helios S1, is one of the most effective and proven enablers of higher capacity for your solar array. The elegance of the design is in its fundamental simplicity. It permits the solar array to follow the movement of sun year-round from dawn to dusk, boosting energy harvest by 20% to 30% over fixed arrays. Our innovative, independent modular design makes PV power plants scalable, easy to install, and simple to maintain.
Loaded with smart controls and leveraging the power of cloud computing, Helios S1 tracks the sun to an utmost degree of precision. The Helios S1 also adapts positioning to avoid inter-row shading and permits performance monitoring across a host of devices. Our advanced alert systems assure that there is close to no downtime.
---
About SmartTrak Corp.: SmartTrak is a pioneering manufacturer of solar tracking systems and solar weather stations with monitoring systems, holding ISO 9001:2008 certification. The company offers engineering design and installation services for on-grid and off-grid solar PV plants with tracking systems. Smarttrak provides a wide range of quality products and services specific to customer needs in solar installations. These solution sets include: Horizontal/ Single axis tracking systems; Azimuth/ Vertical axis tracking systems; and Dual axis tracking systems.
SmartTrak Tracking Systems have been acknowledged as rugged and reliable producing more energy than fixed systems, at less cost. Our systems have been certified to improve the Return on Investment (ROI) and Internal Rate of Return (IRR) for a solar tracker array.
SmartTrak started in 2011 with a dream to deliver smart solutions for global problems, key among which was making solar energy affordable. Banking on our expertise in embedded systems and electromechanical design, our first generation solar trackers were instrumental in pushing the bounds of the solar industry in India, making us one of the leading vertically integrated solar solution providers in the region.
About Smarttrak CEO, Mr. Bhagawan Reddy Gnanapa
Bhagawan is the Founder and CEO of SmartTrak. He founded the company in 2010 to pursue popularizing the use of sun tracking technology to augment alternative and clean source of energy. Under his leadership, Smarttrak has designed and delivered 150 MW of trackers, yielding revenue of $12 million in its latest financial year.
Prior to orchestrating both the technical and business elements of SmartTraks collaboration, Bhagawan was a DSP Engineer at NVIDIA Corporation. He worked on various Signal Processing Algorithms and chip level technologies for 10 years at NVIDIAa PortalPlayer, Analog Devices. He is a co-inventor of U.S. patent filed on a "configurable system for performing repetitive actions and method for configuring and operating," assigned to PortalPlayer Inc., since acquired by NVIDIA.
Featured Product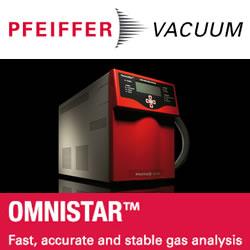 The Pfeiffer Vacuum OmniStar benchtop analysis system offers you a compact footprint, powerful software and Ethernet connectivity. It's the optimum solution for many real-time gas analysis applications. With the OmniStar, Pfeiffer Vacuum offers you a complete solution for gas analysis, in chemical processes, semiconductor industry, metallurgy, fermentation, catalysis, laser technology and environmental analysis. The turnkey OmniStar gas analysis system consists of heated, temperature-regulated gas inlet system, Quadrupole mass spectrometer, a dry diaphragm vacuum pump and HiPace turbopump. Unlike competing methods such as FTIR, OmniStar is suitable for qualitative and quantitative analysis of most gases.