More than 150 participants are soon gathering in Izmir, Turkey for the IGC Turkey - International Geothermal Congress, co-organized by Enerchange and ThinkGeoEnergy, in cooperation with EBRD and JESDER and supported by GW sponsor Ormat.
Turkeys geothermal sector has experienced an incredible rise in recent years, and will be sharing the Turkish geothermal experience in an eventful 3-day conference in early June.

From June 6th- 8th, leading Turkish and international geothermal experts are set to gather at the 2016 IGC Turkey-Izmir International Geothermal Conference. The conference - simultaneously translated (in both English and Turkish) - will provide updates and insights on the latest developments in geothermal technologies, financing, reservoir management, operations and exploration, as well reviewing Turkeys geothermal sector, how it developed, and how it will continue to do so.
The conference, organized in tandem by ThinkGeoEnergy and Enerchange will take place at one of the regions finest hotel, the Swissôtel Büyük Efes İzmir. In addition to the many presentations and demonstrations, the conference will include networking events and outings.
On the first day of the conference, Italian Exergy will provide a unique opportunity to visit its turbine manufacturing facilities in Izmir. In the afternoon, the European Bank of Reconstruction and Development (EBRD), in cooperation with the Ministry of Energy and Natural Resources of Turkey, will hold a workshop highlighting recent developments in geothermal energy and geothermal energy financing. The workshop is open to all attendees at no additional cost.
Ormat, the conferences Gigawatt sponsor, is providing attendees with an exciting opportunity to participate in an in-depth field trip to several geothermal plants in the region.
Nowhere in the world has geothermal seen a faster growth over the past few years. With an impressive collection of geothermal experts, and many of the biggest players in the industry congregating at the 2016 IGC Turkey - Izmir International Geothermal Conference, is an event you dont want to miss. Online registration is open until May 31, 2016, register now at the following link.
Link: http://igc-turkey.com/#registration
Attendees include but are not limit to operators, investors, developers, service companies, suppliers and municipalities.
Featured Product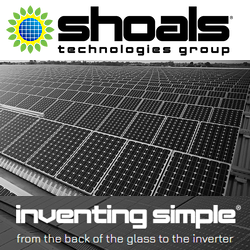 Inventing Simple® isn't just a slogan to us, it's a way of life. Using simple plug-and-play ideology, we revolutionized solar installations in 2003 with our Interconnect System™. Our harnessing system is now the gold standard EPC's use around the world. By using simple ideas, we are making solar energy a more affordable and clean power source for future generations.