Partnership aims to lower the levelized cost of electricity through solar tracking projects
Array Technologies, Inc. (ATI), the global leader in tracking systems, and world class renewable energy company, BayWa r.e., have entered into a master supply agreement to drive execution on over one gigawatt of solar trackers for delivery to projects in the United States and Mexico.

The agreement was signed between the parties during Green Power Conferences MIREC Week, an international conference held in Mexico City, where ATI and BayWa r.e. gathered with hundreds of companies targeting Mexicos nascent solar industry as the next frontier. As a result of ATIs recently expanded global supply chain network, 70% of BayWa r.e.s projects in Mexico will be sourced by local content.
The projects will feature ATIs market-leading DuraTrack® HZ v3. This innovative single-axis tracker boasts a 6% power density advantage, the industrys highest reliability, significant installation efficiencies, and zero scheduled maintenance over the 30-year life of the product. DuraTrack HZ v3 represents a groundbreaking design in solar tracking built to lower the levelized cost of electricity (LCOE).
"We are delighted to enter into this partnership with ATI, whose industry-leading reliability and near-zero maintenance costs provide the best overall plant performance for our growing portfolio," said Jam Attari, CEO, BayWa r.e. Solar Projects LLC. "ATIs approach of supporting local communities aligns with BayWa r.e.s commitment to using local resources for project realization, making the alliance a natural fit."
"DuraTrack HZ v3 is designed for utility-scale efficiency in global applications. Our recent product innovations dramatically reduce installation and maintenance costs as well as increase reliability, making it the logical choice for BayWa r.e.s growing international pipeline," explained ATI founder and CEO, Ron Corio. "Our partnership is based on improving solars economic viability worldwide by actively reducing LCOE. We are honored to work with a global leader in renewable energy and expect to see great success from BayWa r.e. in the solar space."
The agreement to mass-supply ATIs revolutionary new solar tracking system comes as solar energys competitiveness with conventional fuels is rapidly improving. Key balance of system innovations, such as the utility-focused DuraTrack HZ v3 single-axis tracker, continue to drive down the levelized cost of electricity (LCOE) and propel the solar industry towards a bright future.
About Array Technologies, Inc.:
Array Technologies is the worldwide market leader in tracking solutions for utility, commercial and residential solar electric generation systems, with more than 5 gigawatts shipped and installed across the globe. Over the past twenty-seven years, Array's innovation in solar tracker design and delivery has set the bar for providing the lowest levelized cost of electricity through our easy to install, maintain, and highly reliable tracking systems. Headquartered in Albuquerque, NM, Array Technologies solutions are engineered in the USA. For more information about Array Technologies, please visit arraytechinc.com, connect with us on LinkedIn, join us on G+, follow us on Twitter and subscribe to our YouTube channel.
BayWa r.e. renewable energy GmbH (BayWa r.e.):
BayWa r.e. renewable energy GmbH is a wholly-owned subsidiary of BayWa AG and combines the activities of the solar, wind, bio- and geothermal energy business sectors. BayWa r.e.s core markets are Europe and the USA. The German based company is a "full-service-partner", employing around 950 and drawing on more than 25 years of experience in the market. Today, BayWa r.e. develops, realizes, consults on and supports renewable energy projects. In addition, the company operates and maintains renewable energy plants. Further business activities include wholesaling PV components, as well as purchasing and trading in green energy.
BayWa r.e.s US subsidiaries are active in the solar and wind markets of the Americas. They focus on projects and O&M business and the distribution of PV components.
BayWa r.e.s parent company, BayWa AG, is an international trading and service enterprise with core areas of business in the agriculture, energy and construction sectors.
Featured Product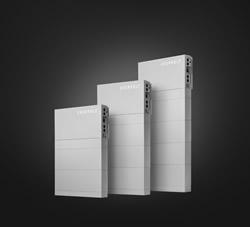 Renewable energy stored in an EVERVOLT home battery system is the perfect backup plan against an uncertain utility grid and weather events. Run key appliances longer and live life when the unexpected happens. EVERVOLT battery storage systems are covered by a complete 12-year warranty from Panasonic.