Solar Energy has just entered the 21st century.
Sistine Solar, Inc. is thrilled to announce that customers can now pre-order SolarSkin, customizable solar panels designed to seamlessly blend in with residential roofs. Since seeing is believing, tune in to Designing Spaces, the award-winning home improvement show on Lifetime TV, on Fri, Jun 10 at 7am EST to see a custom SolarSkin installation on a beautiful Katahdin Cedar Log Home. Check out the 2 min video here.

Much like Apple and Tesla accomplished with smartphones and electric cars, Sistine Solar is using design to drive the mass adoption of clean, cheap and renewable energy. To do that, the company developed SolarSkin, solar panels that come in any color, image or pattern -- for example, a pattern of a red Spanish tile roof -- and thus transforms a traditional, strictly utilitarian solar installation into one that elegantly marries form and function. Homeowners can now buy a solar system, which not only saves money, generates clean energy, and increases the value of a home, but also blends in with -- or accentuates -- their desired aesthetic.
"Solar panels have been stuck in the last century, much like the 1915 Ford Model T, 'you can get any color as long as its black.' That's what makes SolarSkin so exciting, it's 21st century technology -- homeowners can now choose solar panels in any color, image or pattern," commented Ido Salama, co-founder of Sistine.
With an award from the U.S. Department of Energy SunShot Initiative, the company has been able to accelerate the pace of commercialization and plans to deliver tested and certified solar systems to pre-order customers by Q1 2017. To see if a home qualifies and is eligible for a free, personalized roof assessment, visit the companys website today.
About Sistine Solar
Sistine Solar brings a radically new design touch to the world of solar. Combining techniques from solar photovoltaics, color science, and cognitive sciences, the company has developed SolarSkin, a patent pending technology that can create solar panels with any aesthetic - any color, design or pattern. With SolarSkin, homeowners can enjoy high efficiency panels that blend in harmoniously with their rooftops. Sistine Solars mission is to accelerate the adoption of solar through design. Homeowners interested in pre-ordering SolarSkin can visit the companys website.
Featured Product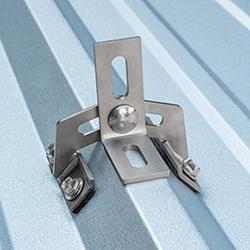 Error-Proof Compression: The QB2 doesn't leave any room for user error when it comes to Microflashing® compression. Once the Dual Drive Shoulder Screw is secured, the Microflashing® is compressed. Only 3 Components: The QB2 is comprised of Microflashing®, an L-foot and a Dual Drive Shoulder Screw. No more Nuts needed to tighten and secure the L-foot! Not only does this simplify the installation process, it also cuts down the installation time.