CALSEIA Contractor Day Returns to San Francisco For Third Straight Year
SAN FRANCISCO, June 15, 2016 - Intersolar and ees North America, the most attended solar plus energy storage industry exhibition and conference dedicated to the North American market, will host more than 20 workshops this year to educate installers and project developers on the key trends and new products shaping the industry. The featured workshops this year are developed in partnership with the California Solar Energy Industries Association (CALSEIA), the North American Board of Certified Energy Professionals (NABCEP) and the National Alliance for Advanced Transportation Batteries (NAATBatt). For the third straight year, Intersolar North America will host CALSEIAs Contractor Day, an all-day, all-inclusive package deal designed for those involved in solar sales and installations, on Tuesday, July 12.

Information on the exhibition program, including Contractor Day, is available online.
As part of Contractor Day, attendees will pick from five workshops that cover the hot topics of running a solar business. At a special luncheon, CALSEIAs executive director Bernadette Del Chiaro will discuss the latest developments regarding rate structure and Net Energy Metering in an open-format Q&A session. Additionally, included in the special Contractor Day packageis a ticket to Intersolars premier networking event, the Solar Summerfest.
"We're pleased to be hosting Contractor Day at Intersolar to provide solar professionals with special access to workshops and programs designed just for them covering topics such as storage, permitting and HOA challenges, rate design, and marketing," said Bernadette Del Chiaro, executive director of CALSEIA.
As an integral part of Intersolars and ees exhibition program, more than 20 workshops will feature product insights, discussions on solar and energy storage and more to help contractors gain an in-depth understanding of the products being showcased on the exhibition floor. As the first major solar plus energy storage industry event of the year in North America, Intersolar and eesattract 18,000 visitors from companies across the whole value chain to see firsthand the next-generation products from more than 500 exhibitors to help reduce costs, boost efficiency and drive the market forward.
CALSEIAs Solar Heating and Cooling Alliance (SH&C) will host a symposium to examine the impact these technologies can have on energy and natural gas consumption in California and across the U.S.. Industry SH&C experts will discuss industry trends, including emerging financing tools and commercial solar pool heating projects, and examine innovations to help these projects succeed.
With California positioned as the largest energy storage market in North America, Intersolar and ees North America is the perfect place for its partner NAATBatt to host two important workshops. The two workshops, "Making Money with Storage" and "What's Next in the Development of the California Energy Storage Market" will examine the future of the energy storage industry in California and beyond.
"Solar developers thinking about adding storage to their product offerings should attend the NAATBatt solar plus storage workshops on Wednesday, July 13," said James Greenberger, executive director of NAATBatt International. "The workshops will offer a frank assessment of how competing storage technologies compare and how developers can use them to enhance returns. The afternoon workshop will focus on the future of the California market and how developers can take advantage of the quickly growing and quickly changing storage opportunity in the Golden State."
Installers attending Intersolar and ees North America are able to attend at 12 NABCEP technical training and hands-on product workshops. NABCEP, Intersolar and ees selected exhibiting companies representing the latest in energy storage, mounting and racking systems, inverter and monitoring technologies. Attendees will earn 2 NABCEP CEUs for each two-hour workshop. Presenting companies include Anchor Products, Aquion Energy, eGauge Systems, Ginlong Technologies (Solis Inverters), GS Battery (U.S.A.) Inc., IronRidge, Quick Mount PV, Rolls Battery Engineering, SolarEdge Technologies Inc., sonnen, Inc., SunModo Corp., and Trojan Battery Company.
"As the U.S. solar market continues to break records and expand, installers across the country need to stay on top of the product trends and best practices that are streamlining the installation process, boosting efficiency and making solar a viable option for a variety of customers," said Don Warfield, Chairperson at NABCEP. "We're excited to partner with a variety of companies to offer in-depth technical training workshops and hands-on product workshops at Intersolar and ees North America this year, and help installers gain an edge in a competitive marketplace."
Exhibition Stages Offer Free Presentations on New Products, Market Trends
Attendees will be able to see more presentations from Intersolar and ees North America exhibitors on theInnovation & Application stage, located on Level 3 of Moscone West, and the ees stage on Level 2 of Moscone West. The Innovation & Application stage will feature free training programs to attendees, as well as 30-minute presentations from Intersolar AWARD finalists. On the ees stage, visitors will hear industry experts discuss their experience with production, sale, installation and application of batteries and energy storage systems, as well as presentations from ees AWARD finalists.
The Intersolar North America exhibition will be held July 12 to 14 at the Moscone Center West in San Francisco, and is co-located with both ees North America, the ideal platform to connect stakeholders in the rapidly growing energy storage market, and SEMICON West, the worlds marketplace for micro¬electronics innovation. Registration for the exhibition and conference is available online. For a full listing of exhibition events, visit theonline schedule.
About ees North America
The ees global exhibition series is the electrical energy storage industrys hotspot for manufacturers, distributors, users and suppliers of stationary and mobile storage solutions. ees exhibitions are organized in cooperation with Intersolar, the worlds leading exhibition series for the solar industry.
The ees exhibitions and accompanying conferences are focused on storage solutions for renewable energy, from residential and commercial applications to large-scale storage systems for stabilizing the grids. ees also features energy management, electric transportation and uninterruptible power supply (UPS).
There are three ees events around the world—ees North America in San Francisco, ees Europe in Munich, and ees India in Mumbai. The ees North America debuted in 2015 as a special exhibition in San Francisco. In 2016, ees North America becomes a stand-alone exhibition co-located with Intersolar North America.
With 100 expected exhibitors and 18,000 visitors at the co-located events, it will be the most-attended solar-plus-storage event in the U.S.
For more information on ees please visit www.ees-northamerica.com
About Intersolar North America
With events spanning four continents, Intersolar is the worlds leading exhibition series for the solar industry and its partners. It unites people and companies from around the world with the aim of increasing the share of solar power in our energy supply.
Since its establishment in 2008, Intersolar North America has become the most attended solar event and the premier networking platform for the North American solar industry. Co-located with SEMICON West, Intersolar North America takes place annually at the Moscone Center in San Francisco, in the heart of the United States pioneering solar market. The event will expand to host a co-located energy storage-focused exhibition, ees North America. ees grew out of Intersolar North Americas popular energy storage exhibition segment.
A total of 521 exhibitors and around 17,835 visitors participated in Intersolar North America in 2015. The conference and exhibition program featured 47 sessions with more than 200 speakers and 25 workshops.
Intersolar North Americas exhibition and conference focus on photovoltaics, energy storage systems, smart renewable energy and solar heating & cooling technologies. Since being founded, Intersolar has become the most important industry platform to connect manufacturers, suppliers, distributors, service providers, policy makers, start-up founders, financiers, installers and partners in the global solar industry.
With 25 years of experience, Intersolar has the unique ability to bring together members of the solar industry from across the worlds most influential markets and solar supply chain. Intersolar exhibitions and conferences are held in Munich, San Francisco, Mumbai, and São Paulo, and, starting in 2016, in Dubai. These global events are complemented by the Intersolar Summits, which take place in emerging and growing markets worldwide.
For more information on Intersolar North America, please visit: http://www.intersolar.us
Featured Product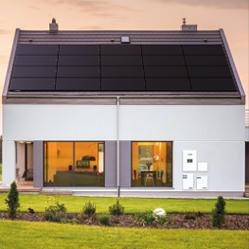 The Q.Home+ ESS HYB-G1 energy storage solution offers scalable storage capacity from 4.5 kWh up to 18.9 kWh and comes in a modular design for easy and fast installation. The system is offered in both DC-coupled and AC-coupled configurations and can connect up to 3 batteries in series using only one inverter and battery management system (BMS). The system includes an integrated backup power function for 100% of the rated inverter output to support critical loads in the event of power failure and offers remote monitoring using the QHOME+ web portal or QHOME+ ESS mobile app.