Pick My Solar expands its online marketplace into commercial solar with the acquisition of fellow Catalyst Energy Innovation Prize winner Solar Merchant.
Pick My Solar, a California-based online solar purchasing platform, has acquired the award-winning startup Solar Merchant, extending its disruptive solution to commercial real estate owners and tenants.

Solar Merchant, founded by veterans of SunEdison, SolarCity, and Intel, created a model that shortens the project development cycle in small commercial solar from months to weeks. In December 2015, Solar Merchant won the US Department of Energy (DoE) Catalyst Energy Innovation Prize, which provided funding from DoEs SunShot Initiative.
"The growth potential in the commercial sector is immense. The Solar Merchant acquisition aligns with our long-term growth strategy, leveraging our proprietary technology to streamline the commercial sales and finance processes and continue reducing the soft costs of going solar," said Max Aram, CEO of Pick My Solar.
The commercial platform is currently in beta and is set to launch in all major solar markets in September. This expansion of the Pick My Solar marketplace will allow business owners and real estate investors across the country to extend their investments into solar energy in an efficient, streamlined process and ensure maximum return on investment.
"Pick My Solar has built the nations leading solar marketplace that facilitates the customer experience from lead to contract," said Solar Merchant co-founder and CEO Kyle Cherrick. "Our team is incredibly excited to continue building a solution for business owners, commercial real estate managers, nonprofit organizations, and multi-family living facilities within the Pick My Solar platform."
Visit Pick My Solar at Booth #8421 during the Intersolar North America exhibition, July 12-14, at the Moscone Centers West Hall in San Francisco, Calif.
About Solar Merchant
Solar Merchant is the nations first online solar marketplace focused on accelerating the development process for the small commercial solar sector using a suite of in-house and industry-networked software. The founding team leveraged expertise in real estate, finance, law, and project development to build the technology that received a grand prize award in the U.S. Department of Energys Catalyst Energy Innovation program in 2015.
About Pick My Solar
Pick My Solar is an online solar purchasing marketplace, providing homeowners and business owners with expert advice and high quality custom bids from a national network of highly qualified solar installers. The overarching mission of Pick My Solar is to simplify the solar purchasing process, drive down costs, and provide the consumer advocacy necessary for solar to achieve broad market success. For more information, please visit: pickmysolar.com.
Featured Product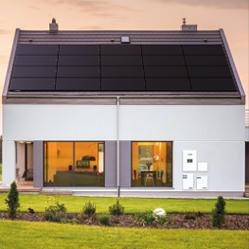 The Q.Home+ ESS HYB-G1 energy storage solution offers scalable storage capacity from 4.5 kWh up to 18.9 kWh and comes in a modular design for easy and fast installation. The system is offered in both DC-coupled and AC-coupled configurations and can connect up to 3 batteries in series using only one inverter and battery management system (BMS). The system includes an integrated backup power function for 100% of the rated inverter output to support critical loads in the event of power failure and offers remote monitoring using the QHOME+ web portal or QHOME+ ESS mobile app.