Over 2,000 participants expected at ATIGS 2018. The Africa Trade and Investment Global Summit (ATIGS) is a unique high-level, prestigious, biennial business platform designed specifically to promote and facilitate international trade and foreign direct investment in Africa. The event brings together high-level government officials, global investors, companies from all over the world, trade promotional organizations (TPOs) and investment promotion agencies (IPAs) from various African countries all under one roof.
The Africa Trade and Investment Global Summit 2018 will attract over 350 qualified investors and over 800 companies looking to expand or establish operations in Africa with an outstanding opportunity to reach and meet over 130 trade promotional organizations (TPOs) and investment promotion agencies (IPAs) from 41 African countries, including over 300 companies from Africa aiming to source international partners. ATIGS focuses on promoting strategic networking and facilitating transactions between global investors, companies, government officers, TPOs and IPAs by providing an ultimate business platform ideal for conducting G2B, G2G and B2B meetings. ATIGS 2018's theme is "Driving Trade, Unleashing Investment, and Enhancing Economic Development".

ATIGS 2018 summit combines a first-class exhibition and conference. Agenda items will include a series of keynotes, exhibition, dedicated networking sessions, round tables and others. At ATIGS 2018, various site events such as sector focus, country focus and more will explore the hottest trade and investment trends in Africa. The summit will also highlight The Forum for Africa Economic Development (TFAFED), which is an integral part of the Summit. It will bring together business executives and high-level government officials to feature in a series of dialogues that will focus on promoting job-creating business investment for sustainable development in Africa. ATIGS 2018 will also spotlight several forums including US-Africa Manufacturing Leaders Forum and the Dubai Business Engagement Forum.
The summit is organized by Global Attain Advancement, LLC, an investment and trade event organizer that formulate a portfolio of high-level business-to-business (B2B) and business to government (B2G) summits, forums, meetings, exhibitions and exploratory trade missions.
For more information about the Africa Trade and Investment Global Summit:
Contact: Daniel Dorksen - Marketing & Portfolio Coordinator
Email: daniel@atigs.com
Phone: +1 512-434-0777
Dates: July 1st - 3rd, 2018
Venue: Omni Shoreham Hotel - Convention Hotel
Location: Washington DC, USA
Register Your Interest: http://ow.ly/llL5301q0Os
Summit Website: http://atigs2018.com/
Organizer: http://www.gaadvancement.com/
Stay Tuned on Twitter: @gaadvancement
Featured Product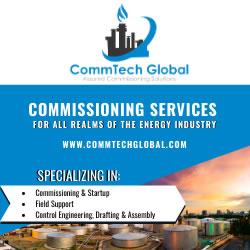 CommTech Global Solutions, LLC, provides professional and reliable commissioning services to customers in all realms of the energy industry. We blend our skills in engineering and technology with innovative business models, offering a complete range of services to assist you for a successful and in compliance operational startup. Consolidation of all our service domains gives our clients a comprehensive set of expertise and far-reaching experience on each project.