Aggregating Energy Reduction Measures for a Number of Honeywell Facilities in the UK to Drive Savings and Help Address Clean Energy Goals
Demand Response aggregator company Pearlstone Energy announced that it has teamed up with Honeywell to provide a smart grid programme for a number of Honeywell commercial facilities in the UK. The programme aims to reduce energy bills in these facilities while helping improve power reliability and meet carbon reduction commitments.

Under the programme, Pearlstone Energy will pay Honeywell to reduce their energy consumption in a number of their facilities for short amounts of time during periods when electricity demands exceed availability. In return, Honeywell will provide the technology to automate these reductions.
These automated energy reduction measures, known as automated demand response (ADR), can create additional revenue streams for participants while contributing to broader UK carbon reduction goals.
"We are delighted to continue with our partnership with Honeywell to boost grid stability and provide the much needed energy and equilibrium at times of distress for the UKs National Grid in the future," said Dr. Azad Camyab, chief executive officer, Pearlstone Energy. "As well as implementing ADR in a number of Honeywell facilities, were also using Honeywells open-source smart grid technology to tap into buildings flexible energy needs to offer additional sources of grid stability along with savings and potential new revenue for participants."
The programmes centrepiece is Honeywells Demand Response Automation Server (DRAS) software-as-a-service (SaaS), which allows Pearlstone Energy to communicate with participating buildings to trigger pre-specified short-term energy reduction measures during times of peak demand on the grid, or peak pricing periods, when buildings are charged more for the energy they consume. Pearlstone Energy can then aggregate the resulting energy reserves and seek to apply them toward grid stabilization efforts, by tendering for National Grids Short Term Operating Reserve (STOR) service, which aims to reduce grid demands using clean methods that avoid producing carbon emissions.
In addition to payment to Honeywell for their participation, their facilities can also reduce their energy bills by avoiding costly peak pricing periods and network demand charges.
Having secured a National Grid STOR contract in 2016, Pearlstone Energy is currently recruiting other potential facilities and customers, and together with Honeywell as a participating company and technology enabler expects the programme to grow significantly over the next five years to more than 200 megawatts of capacity.
Honeywell is a pioneer and leader in ADR technology with 20 programs underway in the United States and around the world, including ground-breaking projects in Australia, China, India and the UK. In addition, Honeywell has managed demand response and energy efficiency projects for more than 100 utilities. With controls in 150 million homes, 10 million buildings and thousands of industrial sites across the globe, Honeywell has the technology and expertise to empower smart energy producers and users. Visit honeywellsmartgrid.com for more information on demand response, and the companys broad smart grid technology and services. For the latest news from Honeywell, visit www.honeywell.com/newsroom.
Pearlstone Energy is a recognised and approved demand response aggregator by National Grid. Pearlstone Energy creates value by offering UK businesses a variety of demand response 'products. Their clients will receive a new revenue stream by enabling them to sell the energy they dont need at certain times, for short periods, and which they currently cant sell on their own., please visit www.pearlstoneenergy.com
Featured Product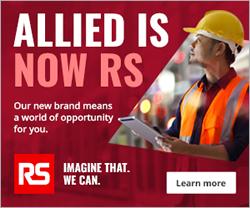 Imagine a global, end-to-end partner for industry - dedicated to solving your problems so you can drive your business forward. We can. On February 6, 2023, we officially changed our name to RS. It's just one way we're evolving to make our partnership and doing business with us even more rewarding. As RS, you have access to more support, more expertise, and more possibilities for your big and small projects - from concept and design to build and maintenance. Going forward, you'll see the RS logo on our website, social media, communications, and packaging. And rest assured, our current systems and procedures will remain intact to seamlessly process your order.