Array Technologies' industry leading solar tracker showcased simplicity and flexibility.
Albuquerque, NM - July 20, 2016/ -- Array Technologies, Inc. (ATI) brought its revolutionary solar tracker, the DuraTrack HZ v3, out of its private showing room and into the full light of the trade show for the first time during this years Intersolar North America in San Francisco. Thousands of visitors saw for themselves how its unique blend of simplicity and flexibility contribute to the trackers position as the market-leading solution for utility-scale and commercial projects around the globe.

"We have always relied on our product to speak for itself, and thought 'what better way to do that than by bringing it out into the open,'" said John Williamson, Director of Engineering at ATI. Show visitors were able to get a real feel for the flexibility, reliability, and ease of installation designed into the DuraTrack HZ v3. Of particular interest to the crowd was the high-level of kitting and pre-assembly provided by ATI, including the industrys first single-bolt per module clamp, and the demonstrated speed of installation due to design simplicity.
Denise Hugo, Director of Marketing at ATI said, "It was a very productive show for us. Bringing the DuraTrack HZ v3 out into the open helped us generate a lot of traffic and interest. Visitors were able to get up close and personal with our tracker, allowing them to appreciate fully our recent innovations, such as its unique wind mitigation feature - which does not rely on active stow, back-up systems, or sensors."
DuraTrack HZ v3 delivers the best levelized cost of electricity by providing the industrys highest power density, ultra-efficient installation, impressive reliability, and the lowest long-term cost of ownership.
About Array Technologies, Inc.:
Array Technologies is the worldwide market leader in tracking solutions for utility, commercial and residential solar electric generation systems, with more than 5 gigawatts shipped and installed across the globe. Over the past twenty-seven years, Array's innovation in solar tracker design and delivery has set the bar for providing the lowest levelized cost of electricity through our easy to install, maintain, and highly reliable tracking systems. Headquartered in Albuquerque, NM, Array Technologies solutions are engineered in the USA. For more information about Array Technologies, please visit arraytechinc.com, connect with us on LinkedIn, join us on G+, follow us on Twitter and subscribe to our YouTube channel.
Featured Product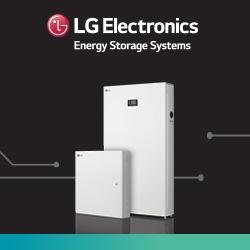 LG Solar is transforming today's solar landscape, offering precision-manufactured and high-efficiency solar panels for homeowners who demand high performance, reliability and consistently strong energy yield from a brand they can trust. LG modules feature outstanding durability, appealing aesthetics and high-efficiency technology, backed by a limited 25-year product, performance and labor (up to $450) warranty. Homeowners who purchase LG Solar modules know they're protected by a diversified global brand.