Dynamic design and integrated software create platform for more valuable solar projects
LAS VEGAS--(BUSINESS WIRE)--SOLAR POWER INTERNATIONAL - SunLink Corporation expands its broad portfolio of photovoltaic project solutions with the launch of the TechTrack Distributed single axis tracker. TechTrack Distributed introduces a new era in solar tracking with "dynamic design," unrivaled site flexibility and reductions in total project costs. TechTrack Distributed is the second single-axis tracker in the companys TechTrack product line, joining the internationally deployed TechTrack Centralized.

Central to the systems innovation is a dynamic design feature called Dynamic Stabilization™ through which the characteristics of the tracker are changed depending on real-time, sensor-observed environmental conditions. Beyond simply adjusting tilt, SunLinks TechTrack Distributed incorporates control over the damping and stiffness of the array, opening a completely new solution space for increasing energy output, maintaining structural integrity and lowering cost.
In addition, TechTrack Distributed solves the challenge associated with monitoring the thousands of electromechanical parts that make up a distributed tracker system via SunLinks VERTEX Project Intelligence Platform. VERTEX enables next-generation real-time data monitoring and secure remote control, which provides greater visibility into energy assets, historical data collection and more efficient O&M - resulting in more valuable energy projects.
"Were very excited about this revolutionary design," says SunLink CEO Michael Maulick. "It reflects the very best of SunLinks legacy for mechanical and structural engineering excellence combined with the leadership were now demonstrating in the software and electrical engineering arenas. Only by leveraging the power of technology advancements such as IoT, big data, machine learning and more can the solar industry move beyond a niche energy player into a grid-enhancing asset, and the worlds dominant energy source. TechTrack Distributed demonstrates whats possible."
Other TechTrack Distributed features include:
Superior structural efficiency - Maximum system torque is reduced by 67 percent, resulting in a stronger, lighter and more cost-effective tracker.
Increased power - Continuous tables and 120° tracking yield the industrys best power density and generation.
Reduced fieldwork - Terrain following of 10 percent grade N-S, any practical E-W and up to 5 percent change in grade post-to-post. Fewest posts to install of any comparable tracker.
Wireless and self-powered - Integrated solar panel and Li+ battery power, robust slew drive and motor. Communication via secure, proprietary mesh network.
Unlike any other tracker provider on the market, SunLink also offers PowerCare installation and O&M services for TechTrack projects, making it possible for EPCs and developers to take on more projects successfully.
"SunLinks full-scope approach makes us a better partner," adds Maulick. "Were able to introduce dynamically-designed products that perform better and cost less plus install them more efficiently and with higher quality results. We also can maintain them more intelligently and ultimately help our customers build larger portfolios of projects with better energy production and economic returns."
With both distributed and centralized tracker solutions as well as fixed-tilt and roof-mount products, SunLinks full range of respected solar mounting products is able to meet the requirements of virtually any project site, anywhere in the world.
Visit SunLink at Solar Power International 2016 (North Exhibit Hall, Booth # 2037)
The full portfolio of SunLink solar project solutions will be on display at Solar Power International, held at the Las Vegas Convention Center from September 12-15. Visitors can get a first-hand look at the new TechTrack Distributed single axis tracker, and technical staff will be on hand to discuss project solutions with new and potential customers and partners.
About SunLink
SunLink Corporation brings powerful solar energy solutions to market through innovative, highly engineered products, in-demand customer services and best-of-breed software that make solar PV electricity easier, safer, more reliable and less expensive to install. In addition to bringing to market well-designed products that are agile in their implementation, the company leverages unparalleled R&D, a legacy of more than a GW of successful projects, state-of-the-art engineering and creative problem solving to develop optimized, full-scope product+service+software solutions for roof and ground-mount solar projects of every size and complexity. It is this unique combination of trusted insights, products, services and EnTech convergence that helps solar developers and installers overcome obstacles and furthers the industrys shared mission of advancing universal solar power adoption. For more information, visit www.sunlink.com or follow twitter.com/sunlink.
Featured Product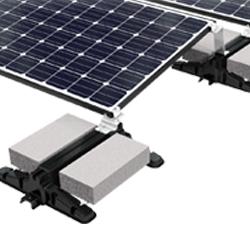 Preformed Line Products introduces the POWER MAX Ballasted Roof Mounting System. The POWER MAX solar mounting system is engineered to maximize energy output on commercial flat roofs. Developed with the professional installer in mind, this system offers adjustable inter-row spacing in the field of up to 11 inches. It features 50% fewer components and a simplified design resulting in faster assembly rates and labor savings on every project. Available in a flush mount, 5˚ or 10˚ tilt or higher density dual tilt design, the POWER MAX base arrives stacked on pallets providing easier transport to the roof. Engineered as a fully ballasted, non-penetrating system, it accepts standard concrete blocks and is qualified by wind tunnel testing.