Companys engineering leadership also featured in conference session on solar project longevity
LAS VEGAS--(BUSINESS WIRE)--SOLAR POWER INTERNATIONAL — SunLink Corporation CEO Michael Maulick will join other top solar industry executives as part of a special general session at Solar Power International to share a synopsis of his vision and participate in a discussion on what 2017 has in store and the trends will shape the industry over the next five years. Maulick will be joined by leaders from NRG Energy (NYSE:NRG), Lennar Ventures, Recurrent Energy and SolarEdge (NASDAQ:SEDG) for the plenary titled, "The View from Here: The Future of the U.S. Solar Industry," on Wednesday, September 14 at 9:00 am in the Westgate Hotel Pavilion Ballroom.

"The View from Here: The Future of the U.S. Solar Industry"
Tweet this
"The solar industry in the United States is at a pivotal point. Weve made steady gains over the past decade but have reached a stage in our evolution where we need to rapidly accelerate and innovate in order to make the transition from a niche energy player to the countrys dominant energy contributor," says Maulick. "Coming from a tech background, I see enormous opportunity for developments in artificial intelligence, dynamic design, cybersecurity and other EnTech solutions to equip solar to solve the challenges to our grid infrastructure in ways legacy energy players have failed to do. If we seize the opportunities EnTech is now making possible, solar as we know it today is going to be completely transformed on a rapid timeline."
SunLink Structural Engineering Manager Lauren Busby is also a featured conference speaker sharing thought leadership related to technological advancements that are improving solars long-term economics. As part of an interactive panel session titled, "Designing for Durability: Best Practices to Ensure Your PV Array Will Endure," Busby will help solar project developers and installers create a framework for leveraging innovations in mechanical, structural and software engineering in order to mitigate environmental threats to PV plants and ensure a longer-term ROI. As part of the panels discussion, she will explore how Internet of Things technologies open new possibilities for structural cost reductions without sacrificing safety and reliability.
"In the past, we had to base our product designs and project solutions exclusively on laboratory outcomes and static modeling," explains Busby. "Now, with the help of sensors and robust data analytics tools, were able to introduce a new generation of mechanical and structural engineering informed by real time wind and snow load, forces, system performance and other data from ongoing field data collection. The result is more durable, robust and cost-effective solutions for all environments and more valuable solar project assets from a financial perspective."
The full portfolio of SunLink solutions will be on display in the exhibition hall at Booth #2037, including the companys newly launched TechTrack Distributed single axis tracker that features the dynamic design approaches that Maulick will discuss. Visitors to SunLinks booth are also invited to take SunLinks VERTEX Project Intelligence Platform for a test drive to experience first-hand the essential real-time project and portfolio data about which Busby will speak.
About SunLink
SunLink Corporation brings powerful solar energy solutions to market through innovative, highly engineered products, in-demand customer services and best-of-breed software that make solar PV electricity easier, safer, more reliable and less expensive to install. In addition to bringing to market well-designed products that are agile in their implementation, the company leverages unparalleled R&D, a legacy of more than a GW of successful projects, state-of-the-art engineering and creative problem solving to develop optimized, full-scope product+service+software solutions for roof and ground-mount solar projects of every size and complexity. It is this unique combination of trusted insights, products, services and EnTech convergence that helps solar developers and installers overcome obstacles and furthers the industrys shared mission of advancing universal solar power adoption. For more information, visit www.sunlink.com or follow twitter.com/sunlink.
Featured Product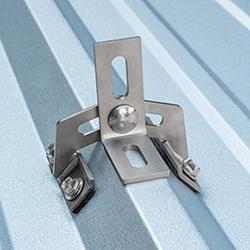 QuickBOLT Low Profile QuickBOLT with Microflashing™ is the industry's affordable, UL Certified Asphalt Shingle mounting system. The Microflashing™ is compressed by the collar on the bolt to create a water-tight seal. With an installation time of less than one minute, the Low Profile QuickBOLT allows installers to complete more jobs.