NEXTracker is Deployed in More Than 150 Solar Power Systems Worldwide
NEXTracker Achieves #1 Solar Tracker Global Market Share, According to GTM Research

NEXTracker is Deployed in More Than 150 Solar Power Systems Worldwide
FREMONT, CA, NOV. 15, 2016 - NEXTracker, Inc., a Flex company, and a global leader in solar tracker technology, today announced that the Company has achieved the number one global market share position among single-axis tracker manufacturers. According to GTM Research's October 2016 report, The Global PV Tracker Landscape 2016, NEXTracker is the established global leader, having captured 24% of the global PV tracker market share with its advanced NX Horizon tracker. NEXTracker's products have been installed in more than 150 individual solar power systems worldwide, spanning a diversity of system sizes, geographies, and applications. Utility-scale and distributed generation projects are deployed in 11 countries, including all regions of the United States, with system sizes ranging from 1 MW to 420 MW.
The Company's #1 market share position was also highlighted in the May 2016 announcement on tracker market share from IHS Inc. (NYSE: IHS) a leading global source of industry insight. The IHS report noted that NEXTracker became the market leader of PV trackers in 2015 in terms of North America shipments.
"This milestone highlights NEXTracker's leadership position in the industry," said NEXTracker CEO Dan Shugar. "We've invested significantly in our delivery capability and quality to ensure consistent, superior customer support across global project sites. We are also actively monitoring our deployed tracker row around the world, utilizing an advanced data analytics platform. Our systems are operating as expected — and we have the data to prove it. Joining Flex has helped us grow our international footprint — affording increased access to infrastructure, supply chain, sales, and manufacturing capabilities worldwide."
"Our research findings show that PV tracker installations will grow 24% annually through 2021, faster than any other PV racking segment. NEXTracker has the leading share of the PV tracker market, and was #1 in single-axis tracking shipments in 2015," states Scott Moskovitz, Solar Analyst at GTM Research.
Recent NEXTracker global milestones include:
· Australia: NEXTracker designed, installed and commissioned the country's largest utility-scale solar tracker project, located in Moree, NSW and designed the first PV+storage hybrid installation, the DeGrussa Gold and Copper Mine in remote western Australia, in addition to establishing an Australian entity and local office presence in Sydney
· Brazil: To be online by Q2 2017, the Pirapora 1 project is one of the largest solar projects in Brazil and one of the few utility-scale projects to meet the FINAME accreditation criteria of the Brazilian Development Bank (BNDES). BNDES streamlines financing for projects that incorporate products compliant with FINAME's local content and manufacturing requirements. Manufactured locally, NEXTracker NX Horizon™ is FINAME-compliant; its materials and components are manufactured and tested for quality assurance at a Flex facility in Brazil.
· India: On September 1 this year, NEXTracker announced it had delivered its NX Horizon technology to India's largest solar tracker power plant, in collaboration with its customer, Adani Power Ltd. Located in the State of Punjab, the project is 105 MW.
With over 5 GW of tracker systems delivered, NEXTracker provides the leading tracker technology for distributed generation and utility-scale solar power systems. NEXTracker's balanced design, deployment, installation and commissioning support are ideal for large-scale solar deployment. Its self-grounded and self-powered technology provides valuable savings in labor and materials, while its 120-degree rotational range maximizes energy production. NX Horizon is UL 2703 and 3703 certified, and available for 1000V and 1500V configurations.
About NEXTracker
NEXTracker, a Flex company, advances the power plant of the future with solar tracker innovations that increase performance and reduce costs for all size power plants. As the #1 market share tracker supplier worldwide with over 5 GW of tracker shipments, NEXTracker is globally recognized for delivering the most advanced photovoltaic solutions for hundreds of projects across five continents. Headquartered in the San Francisco Bay Area, the Company has offices in China, India, Latin America, and Australia. For more information, visit: NEXTracker.com and follow the Company on Twitter @NEXTracker.
Contact: Susan DeVico sdevico@NEXTracker.com +1 510 339-1527
Featured Product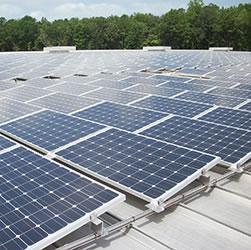 The Power Rail™ Commercial Mounting System is designed with the professional PV solar installer in mind. Both the XD/UD and LD/MD rails feature single tool assembly with the revolutionary patented RAD™ Lock-in-Place bolt for fast and secure module clamping. The high strength marine-grade aluminum rails include an integral wiring channel for securing cables and providing a professional finish.